Colchicine is a pain reliever
Colchicine

Drug groups

Alkaloids Colchicine is an alkaloid from the seeds of the autumn crocus that is used to prevent and treat acute gout attacks. It has anti-inflammatory and analgesic properties and, as a spindle poison, inhibits cell nucleus division. Due to the narrow therapeutic range, the precautionary measures must be carefully observed. Colchicine is broken down by CYP3A4 and transported by P-gp, which is why numerous relevant drug interactions are possible. The dose must be kept low and individually adjusted to avoid life-threatening poisoning. The most common adverse effects include diarrhea, nausea, and vomiting. There are currently no drugs with colchicine on the market in Switzerland, but they can be imported from Germany.
synonyms: ColchicumPhEur, Colchicinum, Kolchizin, Colchizin
Products
Medicines containing colchicine are no longer on the market in Switzerland. Medicines are available abroad that can be imported.
Under certain circumstances, it is also possible to produce a magistral formulation in a pharmacy (difficulties: toxicity, substance).
Parent plant
Colchicine is the main alkaloid of the autumn crocusColchicum autumnale (Colchicaceae), which contains it particularly abundantly in the seeds. It is also in the tuber of the African crown of glory (Gloriosa superba) as well as in some Sandersonia-Types included.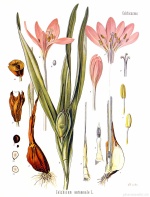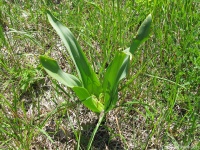 Structure and properties
Colchicine (C.22H25NO6, Mr = 399.4 g / mol) is a very weak, natural base from the group of tropolone alkaloids. It is built up from the tricyclic ring system of benzoheptalene. Colchicine is available as a yellowish-white, crystalline or amorphous, bitter-tasting powder that is soluble in water. The powder turns dark when exposed to light.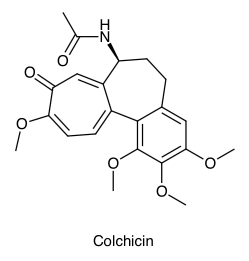 Effects
Colchicine (ATC M04AC01

) has anti-inflammatory and analgesic effects. It removes inflammation in the joints during an acute gout attack, thereby relieving pain. In contrast to uricostatics and uricosurics, colchicine does not affect the concentration of uric acid in the blood.
Indications
For the prevention or treatment of acute gout attacks. Further indications are given in the literature, such as familial Mediterranean fever (indication in the USA), Behçet's disease and recurrent pericardial inflammation. There is no authorization from the authorities in Switzerland. The less toxic NSAIDs and glucocorticoids are also used for the acute treatment of gout. According to the EULAR guidelines, however, colchicine is still one of the first choice agents for acute treatment.
dosage
According to the medicinal product information. The tablets can be taken with or without food. According to the traditional scheme, 1 mg is taken at the beginning to treat an acute attack in adults, then 0.5 mg every 1-2 hours until the symptoms subside or adverse effects occur. The maximum daily dose of 4-6 mg (previously 10 mg) should not be exceeded. Alternative therapy schemes are also mentioned in the literature. According to the Colcrys® product information, a maximum dose of 1.8 mg per day (3 tablets) should not be exceeded because this would not bring any additional benefit. The dose must be adjusted individually. The EULAR guidelines also recommend the low dosage (0.5 mg 3 times a day).
Contraindications
Colchicine is contraindicated in case of hypersensitivity, during pregnancy and in patients with impaired kidney and liver function, with gastrointestinal diseases, changes in the blood count and cardiovascular disorders. Complete information on precautionary measures and interactions can be found in the product information sheet.
Interactions
Colchicine is metabolized by CYP3A4 and transported by P-glycoprotein. CYP3A4 catalyzes the demethylation of methoxy groups and leads to the formation of inactive metabolites. Concurrent use of CYP3A4 or P-gp inhibitors increases plasma concentrations and severe poisoning can result. Strong CYP inhibitors are, for example, cyclosporine and macrolides such as clarithromycin, azole antimycotics and HIV protease inhibitors; Ranolazine is a staker P-gp inhibitor. Further interactions are possible with statins, fibrates and active substances that are toxic to the kidneys. Colchicine is subject to the enterohepatic cycle.
Unwanted effects
Adverse effects can be signs of dose-dependent poisoning.
The most common side effects include diarrhea, nausea, vomiting, and abdominal pain. The diarrhea is due to an inhibition of cell renewal in the small intestinal epithelia.
Patients often suffer from muscle disorders, muscle weakness, kidney damage and skin complaints such as itching and burning sensation.
At high doses, changes in the blood count, anemia, nail growth disorders, hair loss and hypersensitivity reactions were occasionally observed. Hair loss and changes in the blood count are also a result of the inhibition of mitosis. Fatal poisonings have been reported.
see also
Gout, uricosuric drugs, uricostatic drugs
literature
Medicinal product information (D, USA) http://dailymed.nlm.nih.gov/dailymed/drugInfo.cfm?id=31023
Cocco G., Chu D.C., Pandolfi S. Colchicine in clinical medicine. A guide for internists. Eur J Intern Med, 2010, 21 (6), 503-8 Pubmed
Dinnendahl V., Fricke U. Drug profiles. Basic information about active pharmaceutical ingredients. Eschborn, Govi-Verlag, 2006
Dustin P.Jr. New aspects of the pharmacology of antimitotic agents. Pharmacol Rev, 1963, 15, 449-80 Pubmed
Finkelstein Y., Aks S.E., Hutson J.R., Juurlink D.N., Nguyen P., Dubnov-Raz G., Pollak U., Koren G., Bentur Y. Colchicine poisoning: the dark side of an ancient drug. Clin Toxicol (Phila), 2010, 48 (5), 407-14 Pubmed
Hansel R., Sticher O., Steinegger E. Pharmacognosy - Phytopharmacy. Berlin, Heidelberg: Springer, 1999
Haimov-Kochman R., Ben-Chetrit E. The effect of colchicine treatment on sperm production and function: a review. Hum Reprod, 1998 Feb, 13 (2), 360-2 Pubmed
Hastie S.B. Interactions of colchicine with tubulin. Pharmacol Ther, 1991, 51 (3), 377-401 Pubmed
Jänicke C., Grünwald J., Brendler T. Handbook of phytotherapy: indications, applications, effectiveness, preparations. Stuttgart, 2003
Niel E., Scherrmann J.M. Colchicine today. Joint Bone Spine, 2006, 73 (6), 672-8 Pubmed
Putterman C., Ben-Chetrit E., Caraco Y., Levy M. Colchicine intoxication: clinical pharmacology, risk factors, features, and management. Semin Arthritis Rheum, 1991, 21 (3), 143-55 Pubmed
Richette P., Bard T. Colchicine for the treatment of gout. Expert Opin Pharmacother, 2010, 11 (17), 2933-8 Pubmed
Zhang W. et al. EULAR evidence based recommendations for gout. Part II: Management. Report of a task force of the EULAR Standing Committee for International Clinical Studies Including Therapeutics (ESCISIT). Ann Rheum Dis, 2006, 65 (10), 1312-24 Pubmed
Author and Review
Conflicts of Interest: None / Independent. The authors (SG, AV) have no relationships with the manufacturers and are not involved in the sale of the products mentioned. Images: AV
Peer review: Dr. Olivier Potterat and Prof. Matthias Hamburger, Institute for Pharmaceutical Biology, Pharmaceutical Center, University of Basel
additional Information
Support PharmaWiki with a donation!
© PharmaWiki 2007-2021 - PharmaWiki provides independent and reliable information about medication and health.
This article was last changed on November 3rd, 2020.
Imprint and data protection declaration
Show products for this page