What is the best way to succeed
"Fairness is the best way to success"
pte20210520003 Sports / Events, Education / Career
Youth Forum of the European Tolerance Talks 2021 calls for fair play in society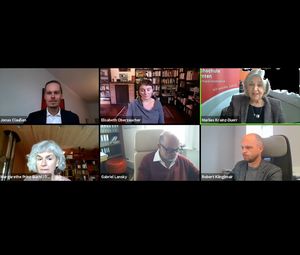 Youth Forum of the European Tolerance Talks 2021 (Image: youtube.com)
Fresach / Villach (pte003 / 20.05.2021 / 06: 00) - "Whether in the personal environment, in politics and business or in sport - fairness is an important basic principle for social coexistence and the best way to success for us humans." This is the conclusion of the opening discussion in the youth forum of the seventh European tolerance talks http://fresach.org. Experts from various fields discussed the challenges and opportunities for fair play in the world of today and tomorrow in online chat with politicians and top athletes.
Fairness in evolution
"Fairness is something that takes place on different levels: on a personal, social and even global level," says Elisabeth Oberzaucher, behavioral researcher from the Department of Evolutionary Anthropology at the University of Vienna http://www.anthropology.at. Evolutionary developments have already shown that fair trade is the best way to achieve success. "Cooperation is essential for the emergence of social structures. The principle 'Like you me, so I you' is an important evolutionary strategy and a basic mechanism for our coexistence," added the researcher.
Even animals could easily recognize what is fair behavior and what is not, as Oberzaucher illustrated with a short clip with monkeys. This differentiation becomes more difficult, however, when one is confronted with completely new challenges that can no longer be classified using purely evolutionary mechanisms. "Our gut feeling no longer works with many things that are important in the course of globalization, urbanization or the corona pandemic. Here, overarching mechanisms and critical thinking are needed to ensure fair conditions," emphasized the scientist.
"Older people have to set an example"
"Fairness is a gain and a value that needs to be defended and nurtured," assured the psychologist and behavioral therapist Margarethe Prinz-Büchl http://selbstkompetenz.at. However, this is not to be found in any legal texts, but is always an expression of a certain personal attitude towards one's fellow human beings. The older generation has to set an example for the younger generation exactly how this works. "We adults have to show the children the concrete advantages of being fair. Without the youth we will not get any further in strengthening fairness. We have to make them want a fair future," demanded the expert.
Law and justice
"Fairness is above all the desire for justice. Law and justice are not necessarily identical," said the attorney Gabriel Lansky http://lansky.at, confirming the assessment of the previous speaker. The question that needs to be answered in this context is whether legal framework conditions can really create a fair world. "There are many theories of legal philosophy on this. Some people believe that in the modern, neoliberal economic system, the opposite is more the case and that economic interests are often given priority over fairness," said the lawyer.
In any case, it is certain that laws, like politics and economics, are not fair per se. "That is why it is all the more important that each individual starts with himself and tries to establish fairness in personal relationships with one another," Lansky said with conviction. Because on the political stage, this topic has recently been pushed into the background. "In principle, every fight for fundamental and human rights in the courtroom is in a certain way always a fight for fairness. That is an eternal fight and the central engine of all legal reforms," ​​said the lawyer: "We can only approach this goal bit by bit."
Politics needs fairness
"'Like you to me, so I to you' is also an essential basic principle for dealing with politics," said Reinhart Rohr, First President of the Carinthian Parliament http://ktn.gv.at, who immediately addressed himself directly on this topic felt. Politicians in particular should set a good example in this regard. "It's about being honest, fair and correct with one another and being careful not to shake mutual trust," explained Rohr. Unfortunately, this is not always the case at the moment, also because personal power interests are too often the focus. "I hope that more fairness will find its way again on a political level. We can only tackle issues such as social justice or tax justice together," said Rohr.
Teaching skills in school
The view that fairness and honesty is a matter of attitude was also fully supported by Hannes Wolf, specialist inspector for exercise and sport at the Education Directorate for Carinthia http://www.bewegung.ksn.at. "Our aim is to impart these skills to the students. This is even firmly anchored in the curriculum for the subject of sport and exercise," said the expert. After all, the school is a very important place for conveying such things. "There the competition is not as important as in top-class sport. The aim is rather to motivate children to exercise and to bring them closer to a positive attitude towards sport", summarized Wolf.
Referee calls for fair play
Finally, Tanja Hausott provided interesting insights into the world of sports. The woman from Villach, who went down in local football history as the first female referee in the Austrian Bundesliga, reported in the online chat about her very personal experiences on the subject of fair play. "As a referee you are obviously often the bogeyman. But I haven't regretted a second of my career," revealed Hausott.
Fairness plays a major role in football. "There is a precise set of rules that you have to adhere to. As a referee, you are responsible for observing these rules and also have to keep an eye on fair play. If that doesn't work, there is first a warning, then a warning or even an exclusion ", the expert explained the procedure. She has the following message to the youth: "Stick to fair play. Victories are nice, of course, but must not be achieved unfairly. This applies to sport as well as to life."
(End)