Who sells best biryani in Kanpur
India
Sunday, 11/20/2016 - Amritsar
On the Indian side, the reception is rather cautiously friendly. Four different soldiers give us four different instructions where we should stand, and one of them starts to fondle some flap locks, which of course are all locked. After a few minutes we are allowed to proceed to formal entry, which takes around two hours. Most of the time we actually stand in line at the immigration desk, even if there are not crowds of people wanting to enter. The collection of the data somehow takes forever, although the passports can be read by machine.
At customs there is still a problem with the three thousand one hundred Indian rupees, which we have already exchanged and which we honestly declare on the customs form because they are not allowed to be imported. The nice customs officer ensures that the declared number on the form disappears again and even so, without wanting to get any advantage for himself. The vehicle inspection is also rather on the exhausting side, because we have to open almost all taverns both outside and inside.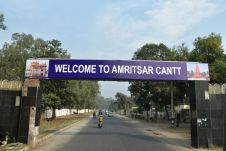 Fortunately, they refrain from the announced check of the engine number, to which we would have to tilt the cab, after one of the customs officers beamed and explained the division of our house to the other. That leaves the handling of the carnet. For this, Thomas is brought to the cargo terminal by a mute man who somehow belongs to the company, but is hardly employed by the state, because the customs paper is stamped there in an office. Then we finally entered India and took the few kilometers to Amritsar under our wheels.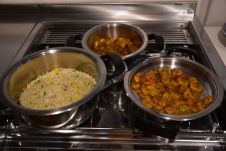 The road is excellent and there is little traffic, which is somehow different from what we expected. Maybe it's just because it's Sunday today, but that's fine with us. In town we drive to Mrs. Bhandari's Guesthouse, a place where we should stay with Obelix. That's how it is and we can stand in the large garden, where we even get electricity, if not for free. We want to stay here for the next few days, because there are old things to be cleaned up and new things to be planned. Fortunately, the leftovers from the Chinese restaurant in Lahore cooked up quickly, otherwise it would have been even later until we put our heads on the pillows.
Monday, 11/21/2016 - Amritsar
Apart from the obligatory coffee, we start the day by looking at photos. We are pretty much behind, and of course our homepage is even more so. Then Thomas goes to explore the situation and stays away much longer than expected. Just getting a local SIM card proves to be difficult, as the tiny stores are few and far between.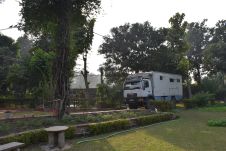 In one of them, he can buy a card that has already been registered, because the sellers find that the papers they have brought with them are not enough for a new one. Amritsar is by no means a small town, but if the supply situation in India corresponds to what is available here, things can still get interesting in the next few weeks. At least he can find a small, real supermarket, but the range on offer is not overwhelming either.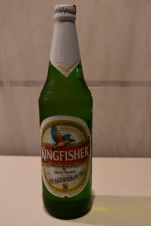 On the other hand, the range of fruits and vegetables on the market seems to be quite decent. The supply of money is also a problem at the moment, as India recently withdrew the most widely used five hundred and thousand banknotes from circulation overnight. This means that cash has become scarce and the ATMs that are still working at all and that have long lines in front of them only spit out the equivalent of just under forty francs.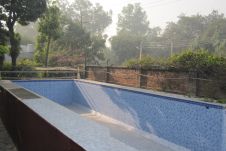 So in the future we will try to pay as often as possible by credit card, even for small amounts of a few francs. After the noise, stench and dirt, Thomas is glad to be back in Mrs. Bhandari's little oasis, who would be one hundred and ten years old today if she had not died nine years ago. Since there was also a problem with buying beer, we are glad that you can buy beer here in the guesthouse, albeit not cheaply. So we drink our first Kingfisher, which of course has to be our favorite purely by name. We drink it with the vegetable curry, which Isabella has once again changed a bit and thus helps Amritsar to find its way into her recipe collection.
Tuesday, 11/22/2016 - Amritsar
We catch up on some sleep and are therefore not up very early. Otherwise nothing special is going on in the MGD program today. Of course there is something to eat every now and then, and in the evening it is even very dignified: A nice piece of beef fillet goes with the beautiful cauliflower and broccoli and of course one of our red wine bottles, which are slowly becoming rare again.
Wednesday, 11/23/2016 - Amritsar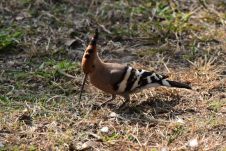 Today we are more specifically active after a starter coffee: It is cleaned properly once again. And since we forgot to empty our waste water tanks before our arrival in Amritsar, there is also some work to be done here.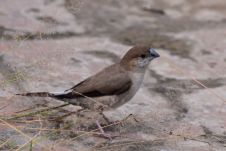 Thomas has the pleasure of carrying basin by basin of our broth into the sewer shaft in the garden, which is unfortunately too far away for our drainage hose. Luckily, this is done shortly before dark and as a reward, after the necessary shower with clean water, there is a Kingfisher and local Lays Chips. The two variants we try (Chile Limón and India's Magic Masala) are not without their spiciness. After the aperitif, there's a Matmata salad, but that doesn't seem to be enough for Thomas because, as an exception, he grabs a few more biscuits for dessert.
Thursday, November 24th, 2016 - Amritsar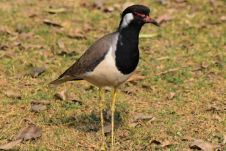 Our washing day is actually planned for today, but when we get up Isabella has to give forfait because her stomach troubles her. So she spends most of the day in bed and reads a book if necessary. Thomas seized the opportunity and grabbed her laptop to select a few photos from over four thousand pictures from Tajikistan for the photo gallery on our website. It takes a while, of course, and so the day goes by without us having created anything visible. In the evening Isabella at least dares to eat again. Some fried rice with vegetables is just the thing. However, it soon disappears horizontally again, but this time more because of the onset of fatigue.
Friday, November 25th, 2016 - Amritsar
Sleep is good, that's why Isabella is fit again and nothing stands in the way of her washing day. Thanks to a tip from Ralf, a friend from Africa who was also here, we know that we can take out insurance for Obelix at the guesthouse. The insurance agent should be here at ten o'clock, but at ten-thirty the manager announces his arrival for noon. The manager doesn't like our hanging laundry, which is annoying in the nearby garden seating area, where guests now and then have lunch.
Except today ... At least we can hang them on the house's clothesline on the roof. Isabella is still not exactly thrilled, because most of the laundry is on the verge of being cupboard dry.
The insurance stallion finally shows up at half past two to complain that he has to wait for Thomas, who is scratching up US dollar cash, as rupees are still rare here. After all, the whole thing goes quickly and without great effort, and we should receive the policy tomorrow. Shortly afterwards the laundry is closed and finally there is something between the teeth. Coffee and biscuits don't exactly replace breakfast, but they do. And that even outside in the garden. After the laundry is wrapped up and we have had a fresh shower, it is already getting dark. We dig out a pack of grilled sausages from one of the Stan states in the freezer and make a pasta salad with it. The sausages are actually put on the grill, but in view of the aggressive mosquitoes we refrain from eating outside. On the whole, the sausages are not bad at all, but quite greasy, as Thomas noticed a second time while washing the dishes.
Saturday, November 26th, 2016 - Amritsar
Somehow we like it here in Mrs. Bhandari's garden and so we can certainly imagine staying here for a few more days, not least because we have no deadline pressure for once, because our visa for India allows us to stay for three months. We are already exploring the travel options for Myanmar, because there we have to book a tour again, as in China, so that we can drive through the country.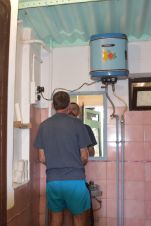 And the fact that we are already doing this now instead of forging plans for India has to do with Thailand, because since the middle of the year they have set in motion a madness of bureaucracy with permits, notarized vehicle documents and entry and exit with dates and locations .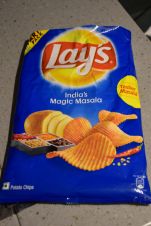 Our biggest concern at the moment is our dwindling water supply, which is slowly but surely moving towards zero. But here in the guesthouse we also get help: Thanks to a powerful pump and a thick hose, five hundred liters of water disappear in Obelix's stomach in no time at all. In the afternoon, Thomas 'beard trimmer gets to work one floor higher for the first time. Isabella is thievingly happy that she too can finally grab his hair. But then we really deserved the beer and chips in the garden. So that we don't feel too comfortable, we go back to work. When it comes to bread, the English only left Pakistan and India with toast, which is reason enough for us to finally bake a dark bread. Since tomorrow is Sunday it will of course be a loaf of bread. And when the oven is already hot, we slide in a homemade pizza, because somewhere in the fridge there is still a scoop of mozzarella from Somewhereistan.
Sunday, 11/27/2016 - Amritsar
You shall rest on the seventh day. I Agree. For once we don't do anything that needs to be done, but sit in the garden and watch the birds and read - well, travel guides. In between we try our loaf of bread, which has also become very tasty with the Pakistani, bleached wheat flour, called maida. In the garden there are a few new birds for us: Isabella discovers well-hidden Yellow-footed Green Pigeon and a little less well camouflaged because black Koel, a species of cuckoo in the same tree.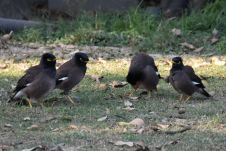 In addition, two red-raped lapwings strut around the lawn on their long legs. For dinner we turn on the grill again and put the hoof steak on the wire rack. When the first three pieces are sizzling, one of the three dogs in the guest house, who wanted to be petted extensively by Thomas that afternoon, sneaks up on them. Isabella has her concerns, but Thomas thinks, after the dog makes no move to grab the meat, that he will be good.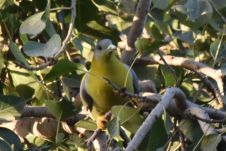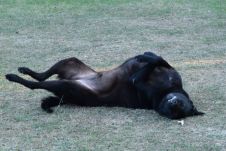 So he puts on the second batch of steaks as we eat the fine pieces inside with herb butter, rice and pumpkin. After sixteen minutes, he turns the roasting pieces for the second time without the dog touching them. Good dog! Two minutes later, Thomas gets the meat, except that there is nothing left to get. Bad Dog! Isabella is not at all happy because she was really looking forward to the second piece. But the great dog connoisseur had to know better ... Since then, Isabella has had the saying of the veggie dog.
Monday, 11/28/2016 - Amritsar
Welcome to the second week in Mrs. Bhandari's Guesthouse. We have never been sedentary on this trip for so long, but we probably need it now.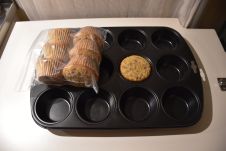 The visit to the Golden Temple of the Sikhs planned for today will be postponed, because by the time the last person falls out of bed it will be a bit late. But after the cozy Sunday yesterday we can get back to work fresh, which we are not running out of today either.
Since Khartoum in Sudan, Thomas has known what to do when the water in the bathroom sink no longer drains properly. He does the plumbing and dismantles drain pipes and siphon. Isabella takes advantage of the later absence of Thomas, who quickly goes to town for a few purchases, in order to finally realize the long-planned but never baked muffins. After yesterday's meat debacle, we're cooking meatless again today. We still have a good one and a half kilos of pumpkin in the fridge, that's why we have bouillon rice and butternut refined with blue cheese today.
Tuesday, 11/29/2016 - Amritsar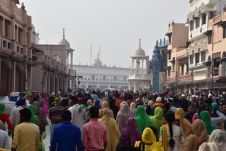 So, today there's no more excuses, sightseeing is the order of the day. But of course it is almost noon by the time we leave our oasis in Amritsar. We actually want to take an auto rickshaw to the Golden Temple, the highest sanctuary of the Sikhs, but there is only one available bike rickshaw in front of the guesthouse entrance. Well, the driver uses his muscle strength to take us to the other side of the track, at least near the temple, in half an hour, because the entrance has recently been converted into a pedestrian zone.
To visit the temple we have to take off our shoes and socks. These and the backpack can be stored for free, and this storage is even organized in an exemplary manner. The temple is located on a large area, which is quite necessary in view of the many pilgrims. The large basin in which the Golden Temple stands is surrounded by buildings all around, which results in a harmonious structure.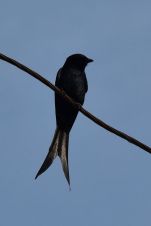 Drums and singsong can be heard from loudspeakers, the recitation of the holy book of the Sikhs.
Like most of us, we leisurely hike clockwise around the Golden Temple and let the peaceful atmosphere and the many colors affect us. Here too, although not as often as in Pakistan, we are asked to be photographed together with Indians. At Akal Takht, the second most important building on the site, we see our first drongo, birds that we did not necessarily expect here. We only look at what is perhaps the largest dining room in the world, in which an average of eighty thousand people are fed free of charge every day.
When we have seen enough we plunge back into the crowd outside the temple and visit the nearby Jallianwala Park.
Here, in 1919, with the brutal mowing of hundreds of Indians by the British occupiers, the foundation stone for India's independence was laid, so to speak. The park is very well maintained by Indian standards and many Indians visit it because it is designed as a memorial. Then we stroll through the Indian chaos again, unsuccessfully looking for leather knickers as finches in the MGD.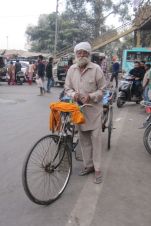 We grab another bike rickshaw with an almost elderly driver who takes us to Albert Road, where we also unsuccessfully try to cash some travelers checks from the many money changers.
So we walk back to the cantonment area, where the guesthouse is located, in the dark. On the way we buy a papaya and tomato, benefiting from the large range of fruits and vegetables on the street market. At Mrs. Bhandari's, a Polish motorcyclist joined the VW bus from Lörrach that had already arrived at noon, the first motorized guests since our arrival here. We'll chat with them later, because now it's time to finally soothe our stomachs with a Greek salad.
Wednesday, 11/30/2016 - Amritsar
In Uganda, six years ago, we baked Christmas cookies in the MGD for the first, only and so far last time. Today, after breakfast, which of course isn't really early, we're going to do it for the second time. At that time we still had the dough mixer with us, today manual work is the order of the day.
Despite one or two incidents, we manage the two doughs and during the break we can treat ourselves to a coffee with a muffin. Thomas prepares a bread dough, because when the oven is already heated we can also try to bake a wholemeal bread. The cutting out and baking of our Mailänderli, one hundred and forty in number, and the even more elaborate fifty-one rascals naturally drag on, so that our bakery is not tidied again until after nine o'clock.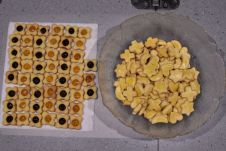 The Mailänderli look a bit pale at first glance, but that's always a problem with our oven, which only produces bottom heat.
We like the colorful rascals with cassis and apricot jam filling very much. Occasionally we will also find out whether we also like them then. But not everything is good today. We are slowly beginning to have doubts as to whether we will actually be able to travel to Thailand with Obelix, because there are certain indications in the large, wide network that the Thai authorities are no longer allowing any mobile homes into the country. That would have far-reaching consequences for the further course of our journey, because it would make it practically impossible to cross Southeast Asia. Time will tell. But what will certainly not come today is dinner. A few chips and a beer should be enough.
Thursday, December 1st, 2016 - Amritsar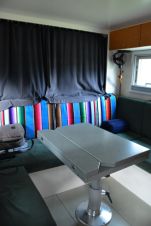 At night it drips from time to time on our roof. But it is not rain, but there is fog outside and the tree above us collects the moisture with its leaves and then lets the one or the other drop fall. We still sleep quite well, but we should just go to sleep a little earlier, then it won't be nine o'clock by the time we get up.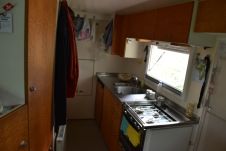 Be it as it is, the first coffee will drive us out of the rest of the sleep. Thanks to our long service life, our waste water tank is full again, which is why Thomas can now enjoy manual emptying for the second time within a short time. To strengthen yourself, especially after the missing dinner yesterday, there is very little breakfast. The Ruchbrot turned out very well, but Beck couldn't manage a real crust again. But together with the heavenly, homemade apricot jam from Armenia, it is a pleasure, so much so that half of the pounder is already missing. After the MAN agency in India was not exactly a great support regarding our problem with the transmission, there is some movement in the matter today.
The manufacturer of the gearbox that we directly addressed, who operates its own plant in India, promises us the repair at a fraction of the price that MAN India had suggested by flying in a replacement gearbox. We'll see from next week in Delhi. Once again we manage to have a beer outside after work. We also chat briefly with the two boys in their Lörrach VW bus. It took you exactly seventy-three days to get here, so you're a little faster than us. You still want to ship to Nepal and then maybe back to Germany, but maybe also go home via China and Russia. Today we fire up the grill again. Our second to last pair of bratwursts is closely guarded by Thomas, while Isabella fries the corresponding hash browns inside. And of course there is also the butternut, which shouldn't go to the dogs too.
Friday, December 2nd, 2016 - Amritsar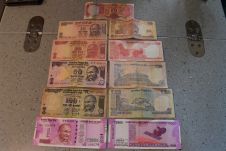 Although we went to sleep an hour earlier for once, we don't get out of bed earlier than the days before. Maybe we should go to sleep earlier? In any case, our neighbors have already left with the VW bus. After the first coffee, Thomas grabs the bike so that we can add a little more rupees. This is not easy even now, because about half of the banks he enters simply have no cash in their tills. However, he is lucky with one: With 100 US dollars, it changes him around 20% more than the central bank actually allows a tourist to do per week.
With the traveler checks, however, it doesn't work at all, which seem to be completely useless here, at least in Swiss francs.
After the two-hour drive through the whole city, which he survives safely with just a few vehicle touches, Isabella is waiting for him longingly, especially because breakfast is finally available. Later on, among other things, we will work a little on the homepage, and we can only just barely prevent dinner from being canceled. We still have some vegetables in the fridge, one of which has zucchetti Anton on the last and an eggplant is inhabited. But it's still enough for a meatless Berber pizza.
Saturday, December 3rd, 2016 - Amritsar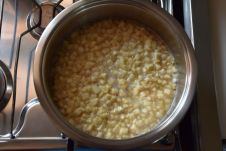 Today we're really busy again, after we didn't get out of bed that early, as always. First we wash a machine full of laundry, which then has to be brought back up the spiral staircase to the roof terrace to dry. After the guavas bought by Thomas at the beginning of last week have finally matured, Isabella processes them into jam today. The yield consists of seven glasses. Unfortunately, the fruit pieces are not overcooked as desired because Thomas did not want to operate the rotor mixer and then, above all, to have to wash it.
So whatever, homemade is something delicious one way or another. After everything, including laundry, has been tidied up and taken care of, we go shopping together. We use the nearby market to replenish our fruit and vegetable stocks.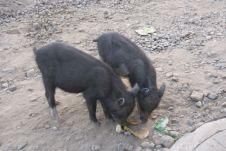 Finally, we have two chicken breasts cut out of a chicken, just right for our dinner. By the time we get back it is already dark and Isabella starts an elaborate cooking process. The cabbage of the kohlrabi, which makes up almost half the weight, is converted into a vegetable.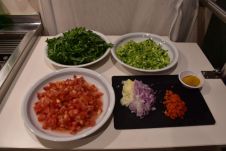 There are also tomatoes and spices. The chicken is fried and then steamed with the vegetables. Meanwhile, Thomas makes a bread dough with the freshly bought wholemeal flour, called Atta in India, to see whether this Atta is also good. So it is quite late before the food comes on the table and unfortunately the result of the great effort is a bit disappointing. The chicken is probably the toughest we have ever eaten and the kohlrabi is not really suitable as a vegetable. After all, the basmati rice is good as always and the vegetable stock is well seasoned. At a later hour the bread is baked, which this time gets a real crust thanks to the higher heat, but does not rise very well.
Sunday, December 4th, 2016 - Amritsar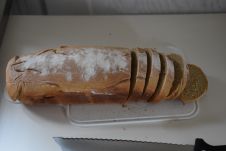 It's not as nice as last Sunday, because we still use our last quiet day in the same place to at least make our readership happy with the China update of our homepage. Then only three countries are missing ... The wholemeal bread tastes really good, even if it is not as airy as Thomas would have liked. But he can rehearse a few more times. A little bit of cleaning also has to be done, for example the solar panels are covered with dust and dirt again after a few days. We also refill our water tanks completely, because: who knows when we will get such clear water again so easily. We'll have dinner served in the garden today. We each ordered a mutton and a chicken curry with vegetables. The cook comes by personally to ask if we like everything and persuades us to have another dessert right away. Fresh guavas with liquid cream also sounds too tempting. So that it isn't already dark and cold, we eat at five o'clock; unusual for us, but we are flexible. In addition, the portions are so neat that we are no longer hungry later. We take advantage of the favorable constellation with eating outside and turn a Montecristo into ashes. We'll enjoy the associated Glenfiddich later as Schlumbi inside.
Monday, December 5th, 2016 - Kurali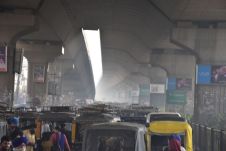 Today it is serious. We are leaving our safe haven in India. So that we can move forward a little, the alarm clock is ringing again after a long time.
Even for Szymon, our Polish friend from Hunza, who arrived at the guesthouse relatively late yesterday, we of course no longer have hours to exchange stories from Pakistan. It will take some time until the invoice is created, also because the generator has to be started up to start the credit card box. So it is almost a quarter to eleven until Obelix backs out through the gate.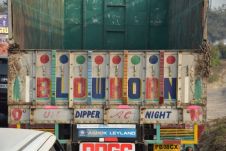 The drive through Amritsar is not more difficult compared to Lahore and soon we are at the AlphaOne shopping center, which has the largest supermarket in Amritsar. However, we have a bit of trouble driving up, because nobody from the security wants to get involved with Obelix. After all, we are allowed to park on the street in front of the mall, which is fine with us. The Hypercity supermarket is quite large, but the range on offer is rather disappointing. In any case, we don't spend a lot of money, and not because the goods are so much cheaper in India.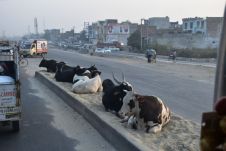 Nevertheless, our shopping takes a while, so that we soon realize that we will no longer reach our daily destination Kurali in daylight. We drive via Jalandhar, but do not take the shortest route that would branch off at Phagwara, but stay on Grand Trunk Road until Ludhiana, in order to then take the NH-95 marked as separate directions on the travel know-how map. Once again, this information is unfortunately not correct, because there can be no talk of directional separation. At least we can drive behind a tow truck most of the time, which is nice in the dark.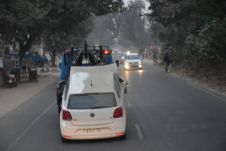 Shortly before Kurali, a truck comes towards us on our side, which thanks to simultaneous braking and evasive action on our part manages to get past us. In Kurali we are looking for the MAN workshop, which of course we cannot find. Fortunately, we have a phone number and good spirits will soon appear to guide us there. We stand up and see that there is still something real to eat. Isabella refines the never-ending butternut with a few tomatoes to make a vegetable sauce, which we enjoy relatively late with spirals, especially compared to yesterday. Then we try to get to bed as early as possible, because the alarm clock will go off again tomorrow.
Tuesday, December 6th, 2016 - Kurali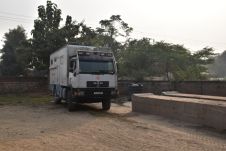 We can almost take it easy, because until Obelix is ​​allowed to roll into the maintenance hall at ten o'clock, we have easily had breakfast and washed up. The hall doesn't look like a workshop and pretty much everything is missing in terms of equipment, machines and tools as we know it from Switzerland. Thomas then already unpacks our on-board tools to tip the cab.
The simple service of changing the engine oil and filter is quick and a new blinker for the one that was destroyed in Pakistan is even in stock and will be installed by the boss personally. While Thomas is overseeing the work around Obelix, Isabella is inside looking for photos for the photo gallery of Tajikistan, a very demanding task in view of the many, many great photos.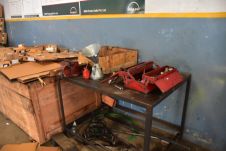 When it was actually time for the lunch break, the two mechanics began to dismantle the exhaust system, because a pipe broke off on the pot and had to be welded. We get lunch from the regional MAN manager, who came from Ludhiana especially because of us, which he brings us from the city center at our request.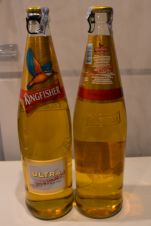 Since the exhaust has to be welded outwards, there is a bit of calm around Obelix, so that we can enjoy the well-seasoned food, rice, dhal and a vegetable with tofu, without any noise. The fact that it is evening before we drive Obelix out of the workshop is mainly due to the fact that the re-installation of the exhaust has to be done twice until Thomas is satisfied with it. The bill for all work, spare parts and lubricants is around one hundred and seventy-five francs, which we are even allowed to pay by bank transfer. By far the most expensive item at almost half of the total amount is the engine oil, while external welding costs three francs, and the work of the two mechanics during the greater part of the day costs a little over twenty-five francs. Calculate the hourly wage! One of the two mechanics takes Thomas to the nearest liquor store after work so that he can buy two bottles of beer there. We then drink one of them with the remains of the very ample lunch, which we only warm up later in the evening, because lunch was also on the late side.
Wednesday, December 7th, 2016 - Ganaur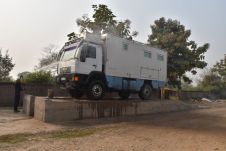 After yesterday it was no longer enough for Obelix's laundry, it will be made up for today. Obelix comes on a ramp and thus becomes clean below as it has not been for a long time.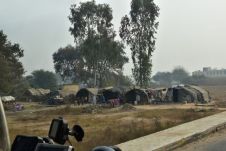 The driver's cab is also thoroughly scrubbed, the only thing that is needed to build it is as high as the people are tall. But at least the areas that we mostly touch are clean. We don't have to pay anything for this service and shortly after eleven we are back on the streets of India. The first city we reach after a few kilometers is Chandigarh, designed by the architect Le Corbusier in the 1950s.
We are going on an extended city tour, not least because the police have cordoned off various streets that we want to drive through.
The tree-lined boulevards are wide and the traffic is much more civilized, maybe only because there are fewer vehicles. One of the main buildings is the High Court and we would like to take a closer look at it. But there seems to be a lot, a lot of work to do, because everything around and on the driveway is already parked.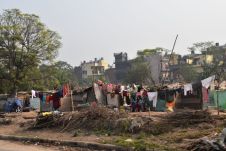 So we content ourselves with a cursory look at the concrete structure and on the way out of the city drive past the artificial Sukhna Lake, which could have copied the promenade of a Swiss city.
Then we head south towards Delhi under a blanket of smog that almost borders on fog. The almost motorway is generally in very good condition and we are making really good progress thanks to numerous engineering structures that have been built over most of the intersections in the cities. But we also pay almost ten francs fees for this, a lot of money by Indian standards.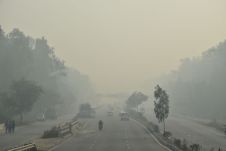 On the way we even see one or the other White-throated Kingfisher, although Thomas only noticed a single one, because the traffic, or rather the Indian driving skills, require his full attention. A fresh accident site that we pass proves that this is absolutely necessary. Our destination is Delhi, but when we drove off we knew that we wouldn't be able to cover the three hundred kilometers in one day.
So we look for a large petrol station around half an hour before sunset that actually lets us park overnight.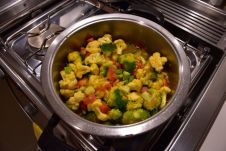 How well we sleep will then show, because the road is close and the Indians are the most notorious horns that we have met in the whole world so far. But in the evening we can still do something in the kitchen and there is a vegetarian dish with cauliflower, broccoli and the red carrots that are obviously common here in India. The vegetables are made sweet and sour and of course there is rice, albeit with jasmine instead of basmati. After all, sweet and sour is not an Indian dish either.
Thursday, December 8th, 2016 - Bilaspur
It was certainly not the quietest night, but we didn't sleep badly. When we open the panels after getting up, we first think that the windows are fogged up. But that is not the case, the fog outside is so thick that you can hardly see your hand in front of your eyes. In any case, we do not see the cars, trucks and buses that rush past unabated on the street that is perhaps thirty meters away.
It is clear to us that we will only start here when visibility has improved significantly. In the meantime we are still on the phone with our contact at the transmission manufacturer Eaton, which means that our destination for the day will be the MAN workshop in Gurgaon in the south of Delhi. Almost exactly at noon the visibility has risen to an acceptable level and we can be on our way. Because they even accept credit cards here at the petrol station, we fill up with a hundred liters of diesel as a thank you for the safe place to stay overnight.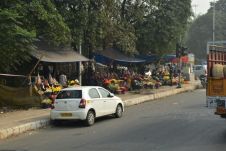 We drive around the fifteen million city of Delhi on the western, outer ring road and yet we have the feeling of driving through the middle of the city. In the Janakpuri district there is a HyperCity supermarket, which is, so to speak, on the way. In the absence of parking spaces, we simply park in a side street, even if we can assume that this would be forbidden here. When we arrive in Gurgaon, it has just got dark and of course we can't see anything from a MAN agency. On the spur of the moment, we call our contact at MAN, the After Sales Manager for North India, who ensures that the person in charge of the workshop provides us with the correct coordinates.
Lo and behold, they are about twenty-five kilometers further south, which of course means another half an hour's night drive. But we get there safely and are admitted immediately. Of course it's a bit late again to do the full cooking program, but it's still enough for a Greek salad. After we bought two very expensive, original Greek feta today, that's no problem.
Friday, December 9th, 2016 - Bilaspur
We spend the quietest night in India to date on the MAN site, and that's simply because we are furthest away from a busy street. The transmission specialist should arrive here at ten o'clock and work in the workshop should generally begin. But first the mechanics take care of another patient who has been here since yesterday, and there is still nothing to be seen of the man from Eaton. Doesn't matter, because the Obelix gearbox has to be removed first and that seems to take a little longer. After all, we are provided with tea in between, and we provide small food ourselves. As always, Thomas marks presence on the construction site, while Isabella prefers the comfort of our house as a workplace. So that the gearbox can be removed, two drive shafts and the exhaust pipes must first be removed. Every now and then Thomas discovers a bird on a nearby power line, first a sparrowhawk, then a glider and in between a small, pretty princess.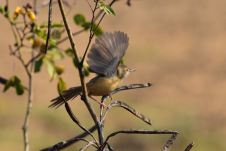 Shortly after noon, it looks as if the dismantling, and thus the repair of the gearbox in general, could be questioned, because the mechanic and his handyman cannot get the screws and nuts to be loosened due to the cabin structure. When at one o'clock they neatly pack away their tools without the unit standing next to Obelix, we fear the worst. Soon afterwards the Eaton man appears, who of course cannot do anything and instead discusses with the workshop boss.
Is it about who should bring us the bad news? But at two o'clock the two employees come out of the lunch break and continue to work until the gearbox lies on the floor with a big rumble in the late afternoon. The reason for this, however, is not due to a lack of care, but to the fact that they could not have pulled it out from under Obelix on the lift truck on which it was last. But that's it for today and it's already starting to get dark.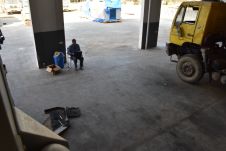 The man from the gearbox says that the repair will take eight hours, which then means that we will be here for a few more days, because he certainly speaks of the Indian understanding of time. We move to the kitchen, where Isabella takes care of the chicken breasts she bought yesterday, the only fresh meat, apart from fish, that was available in the big supermarket. We make a kind of our nasi out of this, but without Chinese cabbage, but with carrots and kohlrabi. Tastes quite good too.
Saturday, December 10th, 2016 - Bilaspur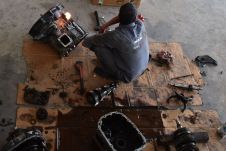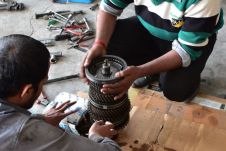 We actually expect something else to happen to our transmission today, at least that is what the Eaton mechanic had promised. But when it is still absolutely quiet on the premises after nine o'clock, we are a bit skeptical. Without any reason, as it turns out, because the dismantling of our gearbox begins punctually at ten. The specialist soon confirms the problem he suspected: the third and fourth gear synchronizer rings must be replaced, and he brought these parts with him at the same time. The corresponding changer has clear signs of wear and must also be replaced, but has yet to be delivered.
In the meantime, the two MAN mechanics are cleaning all parts of the transmission, which otherwise still looks pretty good, at least to us laypersons. Our contact person at Eaton brings the missing part personally, because he wanted to get to know us directly. He also brings the good news that we only have to pay for the spare parts, because the mechanic's hours are a gift from Eaton India. Many Thanks! The gearbox will be reassembled in the afternoon and MAN wants to reassemble it today.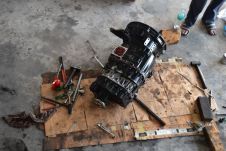 At this point, however, it is already around five o'clock and we therefore suggest that the shop manager wait until Monday, which at least puts a smile on the face of some of the mechanics, because then they don't have to go to the shop until late Work night. But we do it mainly out of self-interest, because we like the idea that our Obelix is ​​not operated on in the semi-darkness with the glow of weak flashlights. So calm is slowly returning and we can first treat ourselves to a coffee and a few of our Christmas cookies. Later we treat ourselves to even more, namely a vegetable curry, which has become almost a weekly classic on this trip.
Sunday, December 11th, 2016 - Bilaspur
The second reason that we didn't want to finish yesterday is that we still plan to wash here today. But for that we have to be sure that there is no work today; you never know. At ten o'clock everything stays calm and shortly before eleven the sixty-degree machine is running. But it makes strange noises again, just like in Gilgit, when the voltage fluctuated so. At some point we notice that the swing does not work properly during the wash, and in the end it tries to rev up forever without success. It's great to have to hang up soaking wet laundry, and even if we twist it out by hand, it will run out of drying.
In an emergency, we'll make another try: We'll cut our wires from shore power and run the Samsung from our on-board batteries. See there: go like a one! Unfortunately, we can't run the next load like this. Although this time the water only has to be heated to forty degrees, our voltage converter with the heating rod is completely overwhelmed.
So shore power has to go back to work and that requires fiddling with rinsing and spinning cycles after the actual wash cycle, with Thomas promptly causing a flood. Instead of playing a round of cricket on the street with the few employees who get through the Sunday here, he just has to drain our garage floor again.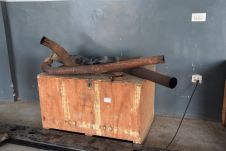 This means that this wash takes longer than necessary. Shortly before sunset we discover our first toko on this trip, an Indian Gray Hornbill, in the surrounding trees. Shortly after sunset, the humidity rises massively and not everything gets dry with which we have to hang the remaining clothes in the MGD, something that we don't particularly like. Isabella is generally frustrated today, because although we only had two loads to wash, we still haven't got a bite between our teeth. The braid that was baked yesterday is still untouched in the kitchen. So there is breakfast at night as a café complete, with scrambled eggs as an encore instead of the planned risotto. We're so flexible ...
Monday, December 12th, 2016 - Bilaspur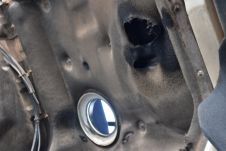 Today is gearbox installation day and we are curious how long it will take. First we deal with other things, like the tricky immigration situation for us in Thailand, with the last taxes in Switzerland, which collect us this time on the way, and with a new, beautiful and already traditional wall calendar for the new year.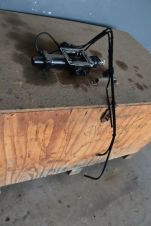 At breakfast we clean up a half-full glass of the new guava jam, it tastes so good. The assembly takes the whole day, because after the gearbox, the other removed parts have to be returned to their original place. Finally it is getting dark and we set up our little headlights so that you can see something under the vehicle. At half past six they are ready and the first test shows two problems: firstly, the reversing camera is not switched on when reverse gear is engaged, and secondly, the transmission loses a lot of compressed air. After half an hour, these two things are fixed, but the test drive, which we want to take to your astonishment, will be postponed until tomorrow. While Thomas is outside helping to solve the problem, Isabella is doing the preparation of dinner all by herself for once. Postponed is not canceled, that's why we finally have the mushroom risotto today. A tomato salad and our very last bottle of wine, a Merlot from Chile. The risotto, and maybe we too, deserved it.
Tuesday, December 13th, 2016 - New Delhi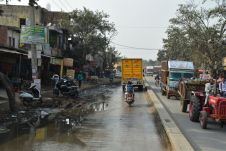 Today is the day of truth. After breakfast, Thomas puts on his overalls to take a look at the work of the mechanics under the vehicle.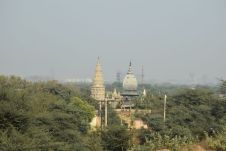 He doesn't discover anything unusual, as far as he can judge it at all. At ten o'clock we go on the test drive, for which the boss gives us a man who should be careful that we don't just run away. The third and fourth courses go wonderfully, everything is fine up to the seventh, but the eighth jumps out again immediately. Somehow something is wrong with the setting of the shift linkage, which is then corrected in two attempts.
After we also handed in the bank transfer for the MAN invoice at half past one, cash is still in short supply, we would actually be ready to leave.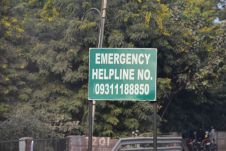 But somehow the workshop boss suddenly gets cold feet without counting anything in his hand and starts to make a phone call. After another half an hour we can finally start driving. With the leisurely shopping tour in the direction of Delhi, of course, that won't work anymore, we will just be able to drive to a supermarket before it gets dark.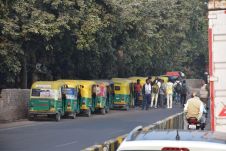 In Gurgaon there is a Spar that also runs a wine department where we can refill our wine cellar. The Indian state achieves its goal with the massive taxation of imported wines, because we only buy local wines.
Hopefully they will be of some use then, at least they will not have cones for lack of them. As expected, the journey continues in the dark, but in addition to the proper street lighting, the vehicles are actually quite well lit. And with the help of the GPS, finding our destination for the day in New Delhi is no problem either, it simply takes a while because of the traffic.
Almost exactly at eight o'clock we reach Nehru Park, on whose parking lot, according to our information, one should be able to stand without any problems.
We are just about to open the beer that goes with the chips, our main meal today, when it is already banging on the door. Great ... But outside there is not an incomprehensible speaking Indian security guard or something, but Harald, who is standing with his and another family a parking bay further ahead, also with their mobile homes. We talk to each other briefly and learn that they will move on tomorrow morning. Who knows, maybe we'll see them again on the way, because they're heading in the same direction as we are. But now is high time for the beer!
Wednesday, December 14th, 2016 - New Delhi
The road is close again, but we don't sleep badly. When we open the shutters in the morning there are already many cars around us and we are not sure whether we can get out of here now. Soon there will be a knock again. This time it's Silvia, a Swiss woman who lives here, who is out and about with her dogs.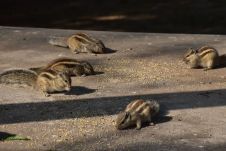 We exchange our mobile phone numbers and soon her first tips for Delhi are on our cell phone. After the first coffee we go on a discovery tour in the Nehru Park, which is very inviting because it is very well cared for.
Soon we are at the other parking lot and lo and behold, the two mobile homes are still there. The men may have flown out shopping, but Tanja and Sabina are at home with their children. We then quickly chat the whole morning and a little more, and discover that we met Luca and Sabina five and a half years ago in Dahab, Egypt.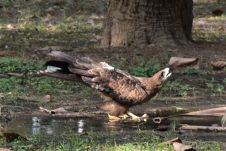 Small world ... Thanks to a tip from Silvia, we find a shop nearby where we can buy beer and pay with our credit card. Because nothing has changed in the cash situation in India and we still see long queues in front of the banks even a month after the disastrous decision.
Back at the MGD it is now much too late for breakfast and so we decide to cook our dinner in the middle of the afternoon. We're flexible ... yesterday at Spar we bought a fillet of sole that Isabella is steaming on a sinfully expensive bed of Chinese cabbage decorated with carrot strips. As the first Indian wine we try a Chenin Blanc, which actually tastes quite good, even if it is very slightly on the sweet side.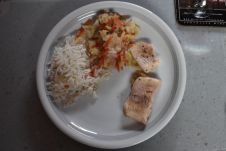 We get one more visit, this time from Luca, who invites us to join them for a coffee. When we arrive there later, Szymon is already there, whom we meet for the third time after Hunza and Amritsar. He's flying back to Poland for a month's stay tonight before continuing from here. Then more come by, this time Indian friends of the Italian family, which means we are a maximum of twelve people in the Iveco motorhome. At some point there will be fewer again and the children will go to sleep in their bunks until we too leave the funny, improvised party at eleven o'clock. When we get back to Obelix there is a police car next to it, but luckily they don't seem to be here because of us and disappear after a while. Then nothing can stand in the way of a good night's sleep.
Thursday, December 15, 2016 - New Delhi
When we switched on our local mobile phone in the morning, we received a text message from Silvia, who invited us to lunch. So, of course, our day is divided. Until then, we'll write one or two emails and see that we look reasonably decent when we're allowed to go out.
At one o'clock Silvia and her Indian husband pick us up with their chauffeur. We drive across New Delhi to the Crafts Museum, which is right next to the Old Fort, Purana Quila. The museum also has a restaurant, which is somewhat modestly referred to as a "cafe" in the Lonely Planet. We more or less order for us and then eat a lot of starters before we get our main courses.
Everything tastes excellent, but we can't remember the names of the dishes, all of which are vegetarian except for the prawns.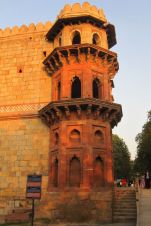 In addition to the food, there is of course a lively exchange about our people and we learn that Sunil, Silvia's husband, is a politician, and a high-ranking one, as we will find out later. After dinner we part ways for today and we first look around in the very interesting handicraft museum, which is also a kind of Ballenberg with buildings and parts of buildings from all over India. Unfortunately, at the moment a large part of it is closed for renovation work and so we then switch to the old fort on the other side of the street. At first we have a little trouble finding the entrance, but then we walk around the complex until sunset.
We especially like the Quila-i-Kuhran Mosque with its beautiful stone carvings, but the remains of the majestic entrance gates are also impressive.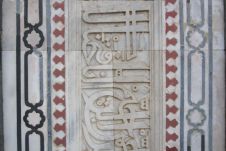 Then we grab a motor rickshaw that takes us across the city back to Nehru Park, where we chat briefly with Luca before we retire to the MGD. Late at night there are leftovers from the restaurant that we like again. And because there is no longer so much there is a small fruit platter for dessert. When we finally want to go to sleep after midnight, a truck suddenly appears in the otherwise empty parking lot, the crew of which begins to unload concrete pipes right next to us. Well then, good night!
Friday, December 16, 2016 - New Delhi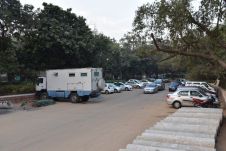 Fortunately, the tubes were then unloaded relatively quickly and there was no second load, so nothing stood in the way of our blessed sleep. Otherwise there is actually nothing exciting to report from today, because we have dedicated ourselves to a classic back office day. We reward ourselves with some of our Christmas cookies, which we enjoy with a coffee in the afternoon. After a chat with Luca, who quickly dropped by with his two children, Isabella is still standing in the kitchen. We still have a fine sauce from yesterday at noon in the fridge and she's making dinner around it. Chicken breasts are fried, carrots and kohlrabi are steamed, and rice is cooked. Everything tastes wonderful together. The first Indian red wine we drink, a Cabernet Shiraz, unfortunately can't keep up with that at all.
Saturday, December 17th, 2016 - New Delhi
Today should be our big Delhi sightseeing day. That's why we get up at half past seven so that we're out of the house by ten.A motor rickshaw takes you to the next metro station "Racecourse", where you can look at the maps for the first time today.
The man at the counter where we buy our tickets briskly claims that he has no change. We find this somehow lousy and ask for the complaint book, which, according to the notice, must be available here. Instead of giving us the complaint book, he suddenly digs three coins out of the cash register.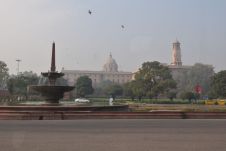 From the racecourse you can take the ultra-modern subway to Connaught Place. From here, the so-called hop-on-hop-off bus leaves from a side street, which goes to all of the city's main attractions.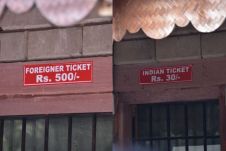 We decide not to do too many sightseeing and let us first take us along the length of the city to the south, including many older palaces of maharajas and such more recent palaces from countries all over the world, called "embassies". In New Delhi there is nothing to be seen of chaos and dirt, the traffic runs quite smoothly, nowhere are cows or pigs on the street and the city is really amazingly green.
Further south it starts to get a bit slower and we arrive at Qutab Minar about a quarter of an hour late. When buying the admission tickets, the second trick follows.
There is a credit card box, but it doesn't accept cards. This is really screaming: On the one hand, we cannot get money from the ATMs because of the cash crisis for which the state is responsible, and then a state institute will not accept our credit card. That wouldn't be a problem if we had to pay thirty rupees admission like the Indians, but it is sixteen times more, with which our carefully guarded cash would melt like snow in the sun.
So we just leave the visit to the big Victory Column and eat a vegetarian biryani in a fast food restaurant, paid for with the credit card of course. The bus then heads north again.
So that the timetable does not get completely out of hand in the increasing traffic, one station is simply left out. We only notice this because we follow the route on the map, because it would rather not be announced. Our next destination, the tomb of Humayun, is on the route again. But here, too, we would have to withdraw one thousand rupees in cash, with which we also turn our back on this sight in exasperation.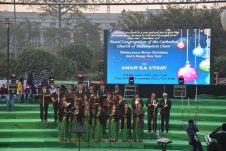 We are so frustrated that we don't get off at our last destination, the Red Fort, but drive straight back to Connaught Place.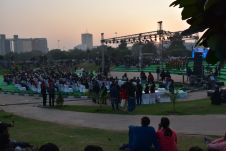 So we drove around five hours through Delhi's city traffic in buses that were not particularly comfortable and aggressively driven by their chauffeurs with endless honking. You don't really want to do that to yourself, but we paid a good thirty francs for it, a lot of money in India. A Christmas event is currently in progress in Central Park, the green space in the circular Connaught Place. Various choirs sing Christmas carols and gospel, and even pieces of cake are distributed among the audience.
With the peaceful mood, even Isabella's nervous costume calms down a bit.
We take the subway back to the racetrack and, hoping to find some Christmas decorations, visit a small Christmas market; it seems like the first ever in Delhi. Unfortunately we can't find anything suitable and so we walk back towards Nehru Park. We pass the Hotel Ashok, to which the Sagar Ratna Restaurant belongs and which, according to a tip from Silvia, should offer good South Indian food. Since we don't know this kitchen very well, we have a little trouble ordering, but Thomas is spot on with his thali, he gets many small dishes served on a large platter. Isabella's Uthapam, a rice-based pancake, is a little less exciting. Shortly afterwards, after around nine hours, we are back at Obelix, tired and, for once, not entirely satisfied.
Sunday, December 18, 2016 - New Delhi
We try to have a real Sunday, with which we first try to sleep as long as possible. Nehru Park is occupied by families all day today, while it usually gets a little quieter after the morning exercise. Even at breakfast it is Sunday, thanks to a braid that has been salvaged from the freezer. We only leave out the three-minute eggs. In the afternoon we actually did some sport for the first time on this trip. We unpack the badminton rackets and play a game of badminton with all the other people. When we have had enough, we move on to the aperitif, where thanks to today's special date, there is soda, namely Indian. It's not that bad at all, so we remember the producer's name, Sula. When we want to print two or three things before dinner, including Isabella's new calendar for the next year, the printer lets us down. So we have to find a way to repair it, and what was possible in Casablanca should actually also be possible in Delhi. We'll see, and maybe stay longer in the Indian metropolis than we thought. Dinner is also a typical Sunday dish: a classic TIM Nasi Goreng. Except for one tomato, which was given asylum in court because of its poor condition. While we traditionally drink a beer with this dish, we continue to try our new wine collection today. This red wine, just like a Cabernet Shiraz the day before yesterday, but this time from Sula, is definitely convincing.
Monday, December 19, 2016 - New Delhi
Today we actually wanted to catch up on the tour of the Red Fort, but oha, Monday is Museum Sunday in India. That leaves us with the other two tasks that we have set ourselves today, namely organizing rupees and getting the printer to be repaired. We drive back to Connaugt Place, where a money changer promised us to redeem our travelers checks on Saturday. Contrary to what he said the day before yesterday, he does not take the checks made out in Swiss francs, but at least we can exchange one hundred and forty US dollars for rupees.