What is the village life in Telugu
Vacation and the simplest village life in India: family visit during voluntary work
Shortly before Christmas, my family and Rosa came to visit me in India. After more than four months, I was somewhat excited to see everyone again and show them my job and the whole of life that has become normal for me in the past few months.
Family reunion
I picked her up from the airport with a friend who works as a driver for Navajeevan. Unfortunately the flight was delayed and we had to wait three hours. In addition, not a single piece of luggage arrived at the airport in Vijayawada because an error had occurred during reloading in Delhi.
Still, I was thrilled to be hugging Rosa again and having my family around me. As a surprise, even my oldest sister was there, although it was actually said that she would not come!
I took everyone to the hotel and went back to the flat with Rosa to introduce her to my fellow volunteers and show her my Indian home.
Sightseeing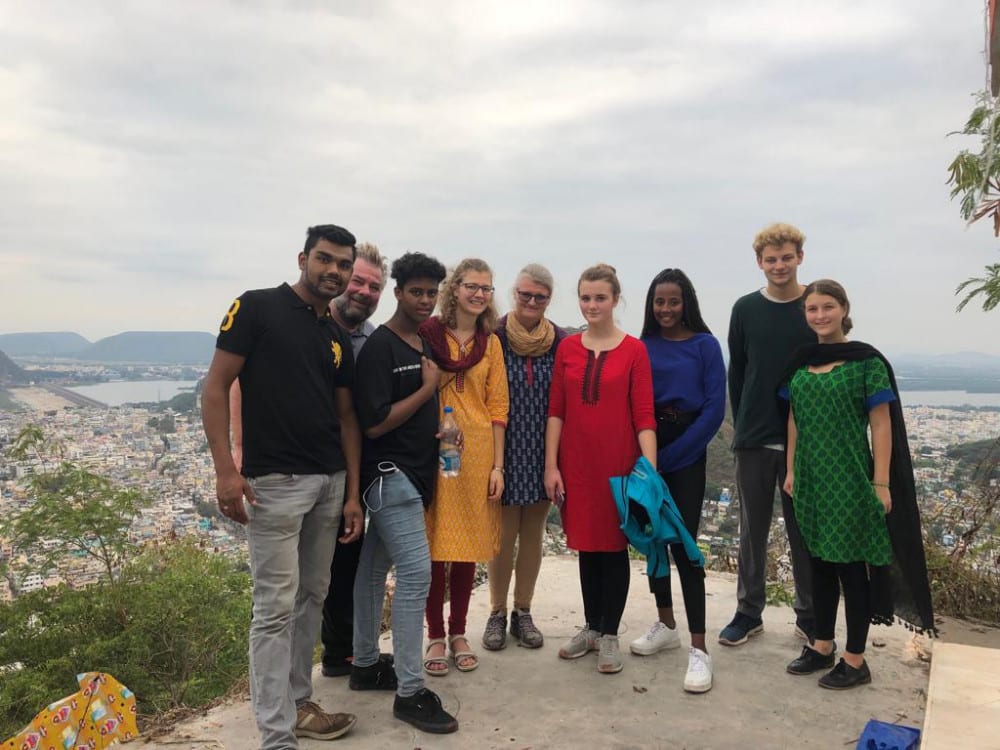 The newly purchased Punjabis shine in cheerful colors. © Florian Friedl / MEINPLAN.at
After our first breakfast together, we first went to a shopping street to buy clothes for the next few days, because firstly we did not know how long it would take to get the luggage and secondly women in Vijayawada only had so-called Punjabis, a dress-like shirt , wear.
Then we went to Chiguru to show my work place and my room. We stayed there for a day and a half and a night so that my family and Rosa could see my daily routine and get a feel for the process. Unfortunately we weren't very lucky with the weather. It rained a lot and at 18 degrees it was the two coldest days I have ever experienced in India.
Relaxation by the sea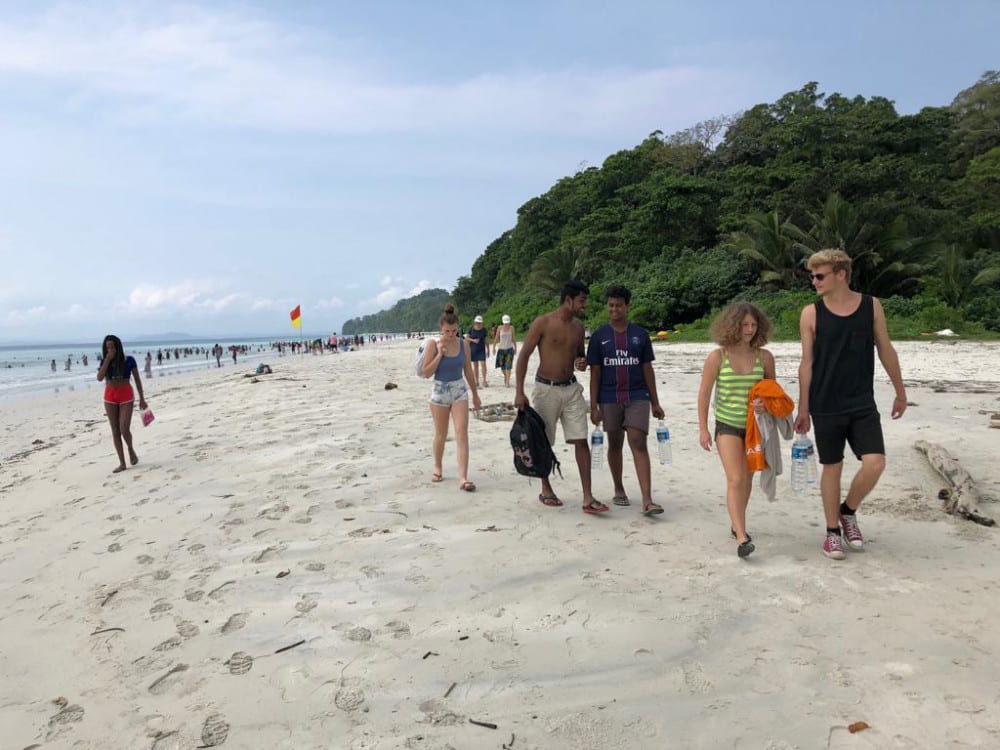 Strolling on the beach with the whole family. © Florian Friedl / MEINPLAN.at
In the next few days we looked at sights and beautiful places in Vijayawada together. The luggage finally arrived after three days after some nerve-wracking phone calls with the airport.
After we had seen everything worth seeing in Vijayawada, we flew by plane via Visac to Port Blair, the largest city in the Andemans, from where you can travel on to various archipelagos by boat. We stayed one night in Port Blair and used the day to visit an old English prison and a village overgrown by the jungle.
The next morning we took the ship to the island of Havelock. We stayed there for a week to swim, snorkel, hike the jungle and relax. The underwater world is heavenly there. There are miles of coral reefs with a very large abundance of fish. Even two turtles came in pink while snorkeling in the afternoon.
Otherwise you saw a lot of rays, large puffer fish, rainbow fish, dragon fish and other colored small fish. The food on the island was very good and a good change from the usual daily rice. The beaches on Havelock are white, very long and adorned with coconut palms. The water is completely clear, so you can see very far underwater.
We stayed in a lodge with lots of little tree houses right by the sea. I really enjoyed the vacation. But it was also over very quickly. After the flight back to Vijayawada there were only two days left before our ways would part again.
Chapter two begins
We drove another day to Chiguru to experience it even when the weather was nice and looked at a ruin just outside of Vijayawada. When the farewell came, it was difficult to let go again. The drive to the airport was very quiet, even though we were far too crowded in a car with all the luggage.
We had to say goodbye in front of the airport, as you can only get in with one ticket. For me, that was the moment when I thought I was going to chapter two of my adventure. The next time I'll see Rosa and my family at home.
Experience ancient India
I didn't have much time for homesickness and the pain of parting, because a week after my family had left, the Salesian brother Dileep, who also works in Chiguru, invited my colleague Justus and me to come to his home village for a traditional one Celebrate and visit the village.
We started at five in the morning on Sundays. First of all, we had to stop motorcycles one by one on the street to get to the bus station. There Dileep bought the tickets and we had a two-hour bus ride ahead of us. After that we had to ride the rickshaw for another 20 minutes and at the end we were picked up by two cousins ​​of Dileep by motorcycle and brought to his village.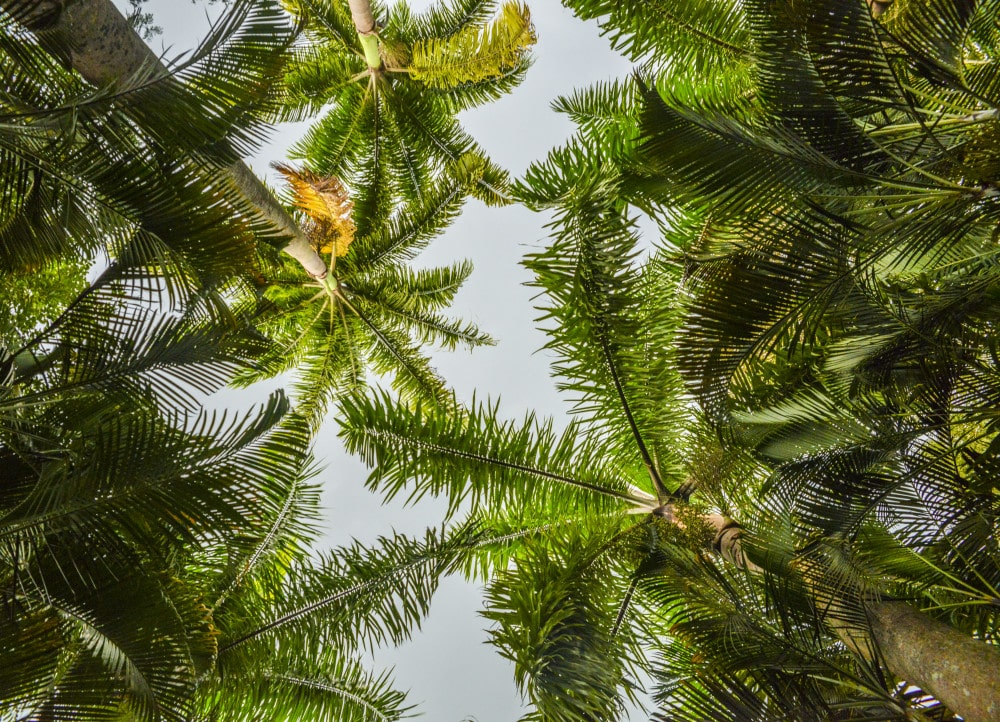 © iStock / MEINPLAN.at
At the time, Justus and I didn't even know what to expect. Once there, we met Dileep's parents and siblings straight away. The village was very small and consisted of 20 huts and a small church as it was a Christian village. We learned that actually only Dileep's extended family lived in the village. We got a kind of semolina pancake, which was very spicy, for breakfast. The party we came for was for a 14 year old girl. It is a tradition there that people celebrate when she has menstruated for the first time and is therefore fertile. For us Europeans this is a somewhat "strange" tradition, but in India and in Dileep's village it is something completely normal.
All morning we sat in front of a stage set up on the village square and people in front were talking in Telugu. After that everyone had to take a picture with the girl. There was even a real photographer for that. There was a lot of good Indian food at lunchtime.
Insights into village life
In the afternoon we drove to the nearby beach to swim. The beach could not be compared with the beaches of the Andemans, as it was a beach far away from tourism. The water was cloudy from the blown sand and there was a lot of rubbish on the beach. Still, it was fun, even if we couldn't go very far in the water as none of Dileep's family could swim. In the evening there was plenty of good food again, and then there was dancing. At nine o'clock we fell into bed tired and exhausted because of getting up early and all the new impressions.
The four of us slept on the floor of a room in Dileep's grandfather's hut. The next day Dileep showed us the fields where his father works during the day. The fields once belonged to his family, but they had to sell them because they had no money. Now his father works for the people who bought the fields and earns 200 rupees a day for eight hours of work, or € 2.50.
There is no drinking water in Dileep's village and you have to walk six kilometers to a drinking water well to get fresh water. They have their own well for washing and they cook on the fireplace behind the hut. For breakfast we got delicious fried dough rings with peanut chutney. In the afternoon Dileep showed us how to climb coconut palms and how to open coconuts with a machete, we also harvested papayas.
Dileep said that actually only the old people live in the village, the children all live in hostels in the city and go to school. Dileep believes that there will be no more traditional villages in five years, as people are often offered grants to move into the city.
We stayed another day and then, after another delicious breakfast, started our journey home again. The time in the village was a completely different, but very valuable experience for me, as this was a different, older India that I was able to get an insight into. I was able to get to know a lot of people and gain exciting experiences.
I hope I was able to give you another small but fine insight into my life and my experiences in India. Maybe you felt like doing it yourself VOLUNTEER ACTIVITIES To travel to a distant country - for example as a replacement for community service or as a voluntary social year?
Impressions from our time together