Keith Christopher & Lynyrd Skynyrd
by Hans Ernst,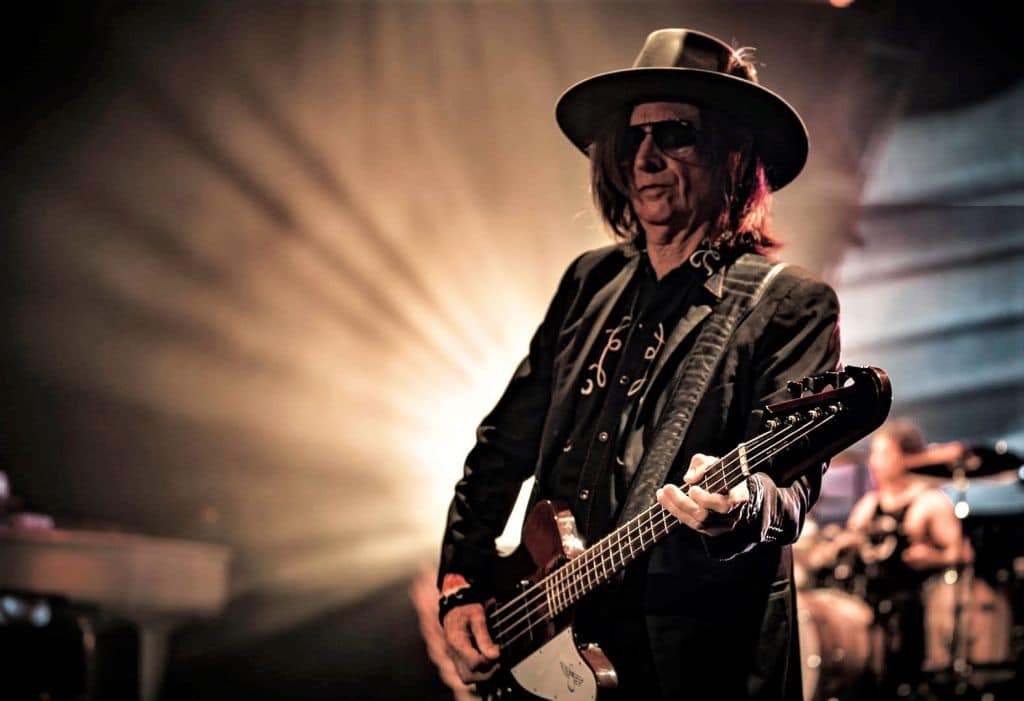 (Image: Keith Christopher)
Fans of American Southern Rock may know bassist Keith Christopher from the Georgia Satellites, Dan Baird & Homemade Sin or the Yayhoos. However, the musician from Atlanta, Georgia has played with Kenny Wayne Shepherd, Tony Joe White, Steve Marriott, Eric Ambel and Billy Joe Shaver. However, he came to his current employer Lynyrd Skynyrd completely unexpectedly.
interview
Keith, could you ever have imagined becoming a bass player with Lynyrd Skynyrd?
Never - not in my wildest dreams I would have thought it possible.
Then how did you get in touch with them?
They were looking for a bass player because Johnny Colt quit for health reasons. That was in the middle of a US tour in June 2017. So they had to find someone quickly and first asked Robert Kearns, who used to play for the Bottle Rockets. Robert had already stood in for a couple of years after Ean Evans died. But he's now playing for Sheryl Crow and was touring with her. So he couldn't accept and instead threw my name into the room. Then nothing happened for a week. And then suddenly the management of Skynyrd was on the phone. That was on a Tuesday - and the first concert was supposed to be on Friday.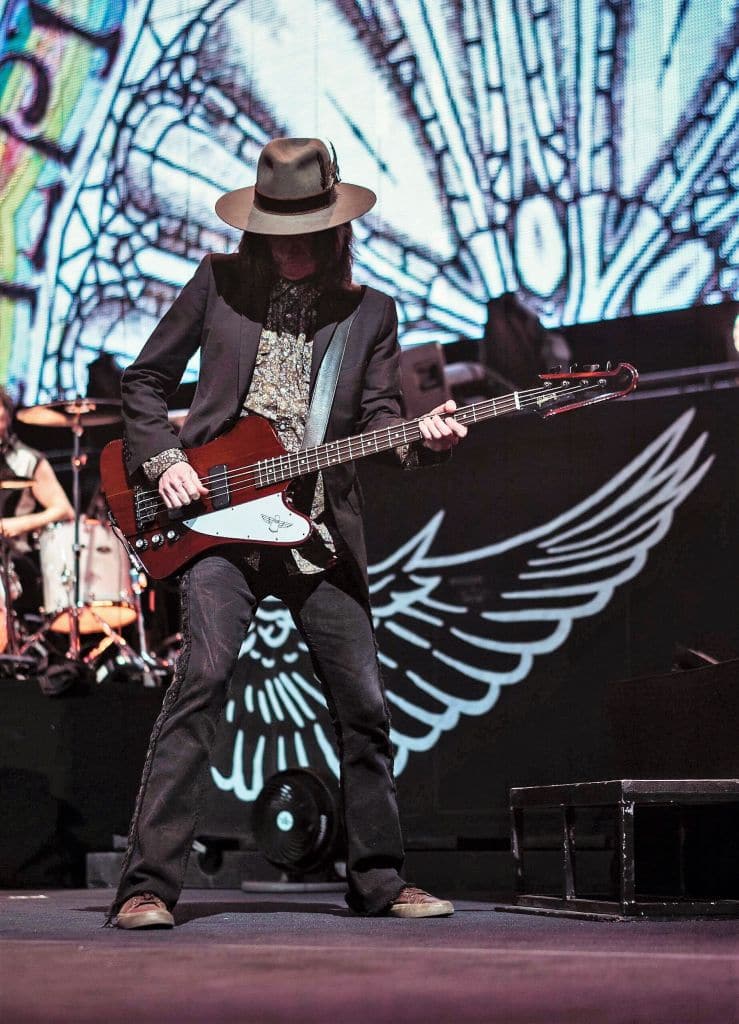 (Image: Hans Ernst)
Really? How did you prepare for it? You may have known the songs, but ...
I just knew Sweet Home Alabama 'and quickly realized: Shit, I always played that wrong. I really didn't know anything about their music. I had no choice but to learn the songs on YouTube within two days.
You haven't had any rehearsals before?
I flew down to Nashville where they stored their tour gear. We played a few songs there - and that's it.
Did you still play your G&L bass, the famous prototype?
At first yes. But it quickly turned out that this wasn't the right sound for Skynyrd. My G&L prototype of the SB1 was too "punchy". That's why I now - like Johnny Colt - mostly use a Gibson Thunderbird. By the way, I'm bringing my newest sweetheart to the European tour: a '68 Non-Reverse Thunderbird, which used to belong to John Entwistle from The Who. A friend from England bought it from the Oasis bassist. I also had to completely adapt myself otherwise, after all I usually play with my fingers, but with Skynyrd I play with a plectrum.
You probably also had to change your general style of play. Otherwise you would rather love the completely free game ...
Exactly. With Skynyrd with the three guitars and the piano, on the other hand, you have to play exactly to the point.
What about amps and pedals?
With Skynyrd I don't use any effects, it goes directly into the Ampeg SVT-4PRO and an Avalon U5 DI box. We have Ampeg SVT-8 cabinets with eight ten-inch units on either side of the drum kit. Although I have to tell you something: The amps at the front of the stage are actually "fake heads" - they are only used for air conditioning with large air holes. The actual amps are at the back of the technicians and are monitored by them. Pulling strings, tuning and all that stuff - my bass tech does it all now. Incredible.
When did you realize that you were a permanent part of the band?
Not for a long time, it was like an eternal audition, it went from performance to performance, from week to week. It wasn't until the new band photo was taken that I realized: I'm actually part of Skynyrd now.
---
Lynyrd Skynyrd: CD & DVD Tips
If you want to get in the mood for the upcoming Farewell tour: Here are the most important Skynyrd albums and live DVDs.
The Southern rockers only had a relatively short phase for their original studio LPs: five years from their debut in 1973 to the plane crash in 1977. In that time, five records have been released, which still make up a large part of the live repertoire today. On the last tour of Germany in 2015, the band played six numbers from their debut, Pronounced 'l? H-'nérd,' skin-'nérd ', including the cult encore' Free Bird ',' Gimme Three Steps' and 'Simple Man' '. Their world hit 'Sweet Home Alabama' comes from the second disc 'Second Helping', which also features other classics in the live set, such as the mostly opener 'Workin' For MCA 'or the bluesy' The Ballad Of Curtis Loew '.
The third disc, Nuthin 'Fancy', contained classics such as the anti-weapon song 'Saturday Night Special' and the boogie shuffle 'Whiskey Rock-A-Roller', while the fourth LP contained Gimme Back My, which was later recorded with Kid Rock Bullets' and 'Double Trouble'. The new guitarist Steve Gaines audibly brought a breath of fresh air into the studio on the fifth long player, even if the flame cover of "Street Survivors" is inextricably linked with the crash that took place three days later. "What's Your Name" is still indispensable today in the live set, as is "I Know A Little" with the high-speed picking guitars. Also, That Smell 'and, You Got That Right' have become Skynyrd standards.
Covers were rarely heard on Skynyrd, only on J.J. They used Cale twice: With 'Call Me The Breeze', which they almost always play live, and 'I Got The Same Old Blues Again'. On their live double album, 'One More From The Road' from 1976, you can also hear a furious version of Robert Johnson's classics 'Crossroads' and 'T For Texas' by Jimmie Rodgers - and the classic sound with the Peavey Mace amps which all three guitarists (Gary Rossington, Allen Collins and Steve Gaines) used at the time. Country outlaw Merle Haggard paid homage to Street Survivors with his Honky Tonk Night Time Man.
Rickey Medlocke on drums and lead vocals can be heard on First… And Last ', which brought unreleased songs from the early days to the public in 1978, including the rocking, Down South Jukin'.
(Image: Doltyn Snedden)
A little tip: Universal Music has a low-price box called '5 Original Albums'. It contains albums two to five and the late 2003 work, Vicious Cycle '. The Skynyrd records after the comeback in 1987 often met with mixed reactions from the critics. 'Vicious Cycle' has some very rocking numbers like 'Sweet Mama' or 'Rockin' Little Town ', which producer / drummer / singer Tom Hambridge co-wrote - and also some heavy stuff.
There are numerous live shows by the Skynyrds on DVD. The original band before the plane crash can be seen on the double-feature DVD, Freebird - The Movie & Tribute Tour ', where the tribute tour then covers the comeback of 1987. The DVD Live At Rockpalast 'also provides a look back with three songs from the Hamburg concert in 1974 (!) And the Loreley performance in 1996.
If you want to see the modern Skynyrds in the video, we recommend the live DVD of the same name from their 2015 home concert in Jacksonville, where they play all the pieces from the first two albums in the original LP order. Except for the new bass player Keith Christopher, the current Skynyrds are at work here. The 2016 live DVD 'One More For The Fans' is not only extremely interesting for fans, and it features a large line-up of rock and country stars playing Skynyrd songs before a huge all-star band including the Skynyrds himself 'Sweet Home Alabama'.
This memorable event featured Blackberry Smoke, Cheap Trick, Warren Haynes, Peter Frampton, John Hiatt, Charlie Daniels, Alabama and Gregg Allman, among others. In the concert's house band, star producer Don Was on bass and guitarists Audley Freed (Sheryl Crow, Black Crowes) and George Marinelli (Bonnie Raitt, Bruce Hornsby) can be seen at work.
(published in Guitar & Bass 07/2019)
Keywords: electric bass, INTERVIEWS
You might be interested in that too