Is it difficult to delete MCom
Successful customer acquisition
Every B2B sales rep knows that dealing with CEOs can be a tricky business. As a rule, they have little time to spare and their needs and desires are very different from those of their colleagues. That makes acquiring CEOs a difficult undertaking - difficult, but not impossible.
We asked Charlie Beale, the new Business Development Manager at Cognism and co-author of our SDR playbook, if he had a successful sales sequence in store aimed at CEOs. Charlie then shared a 75-day sequence with us that he has successfully used in the past to address C-suite prospects. We also asked Frank Mee and Hector Forwood, two of our Senior Business Development Managers, for their advice on this very specific and specialized audience.
The purpose of the sales sequences
Before you begin this sequence, forget about everything you've learned from prospecting from managers, team leaders, department heads, and the like. Prospecting CEOs requires an entirely different mindset. Don't rush off and ask for a meeting; You haven't earned it yet! Expect it to take months to get to this point.
This sequence is not designed to achieve quick success; But on the contrary. It's about building a relationship, establishing meaningful dialogue and maintaining the relationship with the prospect over a longer period of time. The usual sales pattern won't work with a CEO. Instead, you need to show that you ...
be perfectly prepared by doing thorough research on him and his industry.
willing and able to share relevant and insightful content.
are focused on their specific challenges and pain points.

Results
Charlie was able to achieve some impressive results thanks to this sequence:
Email response rates of up to 15%.
LinkedIn engagement rates of up to 52%.
Asset download rates up to 24%.
The sequence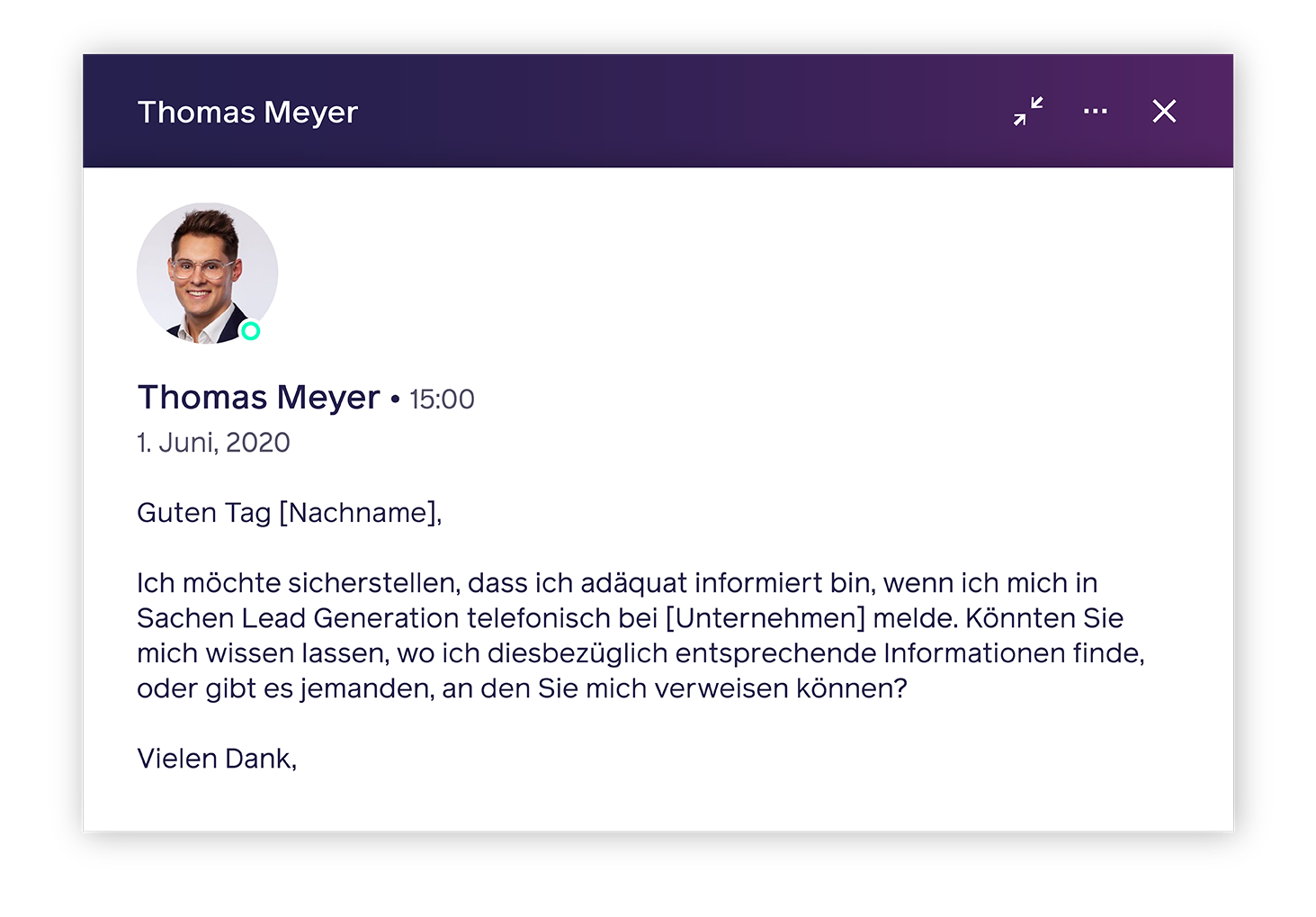 For many salespeople, this first contact may seem counterintuitive. Nothing is said about the seller's business or product. The seller does not provide useful information or memorable statistics.
However, it is the prelude to building a relationship. By asking the CEO to provide you with information rather than the other way around, you increase your chances of getting a response. CEOs are usually outgoing and love to share knowledge and talk about their companies. You are used to being the public face of a company and being asked questions about it. If you can use this for your own ends, you will find that the CEO will be more than willing to talk to you.

By day 5 after the address, you should have taken the time to conduct detailed research on the CEO's company, product, or service. Browse the company's website and make notes about the offering and USP. Read any blog or article on the website to get a sense of the tone and voice of the company. Watch videos or listen to webinars or podcasts - especially those that feature the CEO.
If the company has a free product demo, be sure to sign up for it. This way you are well prepared for future interactions with the CEO.

Ask your B2B marketing team (if you have one) if they have any relevant content to share on your LinkedIn feed. It can be anything - a blog, a video, a webinar - but it has to be tailored to the CEO and their business or industry.
If the content you want isn't there, work with the marketing team to see if they can create something suitable for you. A good practice is to have a weekly meeting between your senior sales reps and marketers to identify the content that will be needed in the future.

Find a relevant article (preferably one published by your own company) and tag the CEO in it. This serves a threefold purpose:
It encourages engagement with the CEO - see if he responds or you get a like from him!
It shows that you care about sharing knowledge, not selling a product.
You and your company remain in the CEO's field of vision.

On day 9, you shared content about your company. The next step is on day 25: This time you have to get personal. Share some thoughts on your industry.
Focus on the specific pain points that could affect the CEO.
End your post with a CTA - to be precise, a question that appeals to the reader to respond to the email. If the sequence worked well, you may get a response from the CEO!
---
---

Scroll through the CEO's Recent Activity tab. Did he share an article or, better yet, write an article himself? If so, like and comment on it - especially if it is relevant to your product or service.
Now that you've placed some valuable content in, it's time to start building up the engagement. Send the CEO a LinkedIn message with a quick quote. If the CEO recommended that you speak to a colleague beforehand, be sure to mention them! Leveraging internal advocates leads to increased buy-in from the CEO.
It doesn't matter if you don't get an answer at this stage - this is just the first step in building a deeper relationship. Here is an example:

If you haven't received a positive response by day 40, follow up with another InMail on LinkedIn on day 45. This time, instead of the standard sales message, try one of the following methods:
Mention a recommendation from an internal or external contact.
Mention a recent event in his career - an award maybe won, or good quarterly figures, or the completion of an important project - anything suitable to get his attention.
Take a look at his LinkedIn feed. Has he announced that he will speak at an event in the future? Most CEOs are active participants in trade shows and industry conferences. Use this information to your advantage! Just make sure his speech is relevant to your product or service.
It could look something like this: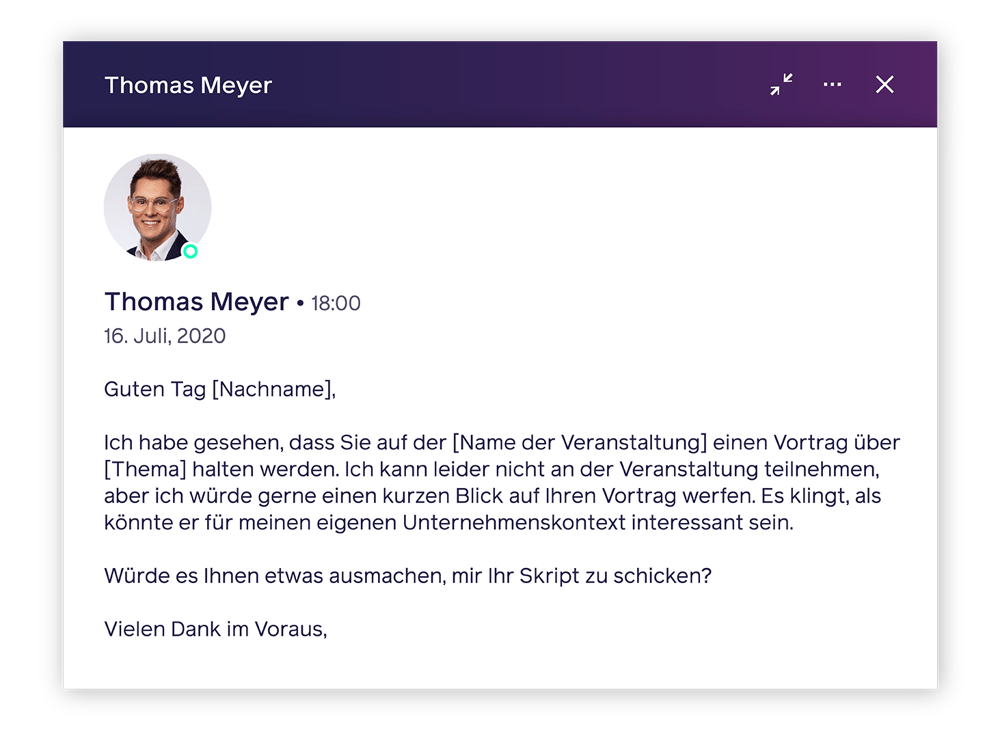 At this point in the sequence, the content you share needs to be extremely relevant and very specific to the CEO's business or industry. It is best to use your own list of existing customers as a guide. Then choose one that most closely matches the following criteria:
Active in the same industry as the CEO's company
Based in the same (or closest) region as the CEO's company
Similar in size to the CEO's company (e.g. startup, SME or group)
Then ask your marketing team to create a case study for that customer (if one doesn't already exist). Share the case study on your company's LinkedIn page and on your own LinkedIn page. When the CEO sees them, they'll use a real-life example to understand how exactly your company was able to help another company very similar to their own - a powerful argument you can come back to later in the sequence.

Continue knowledge sharing by sending the CEO a late-breaking article or industry report. Keep your eyes peeled for any significant developments in the CEO's industry. He's very likely to be eagerly watching the business news outlets and websites, so your best bet is to do that too.
Formulate a CTA in which you directly ask the recipient for a response. As always, remember that CEOs love to share their insights and comment on events!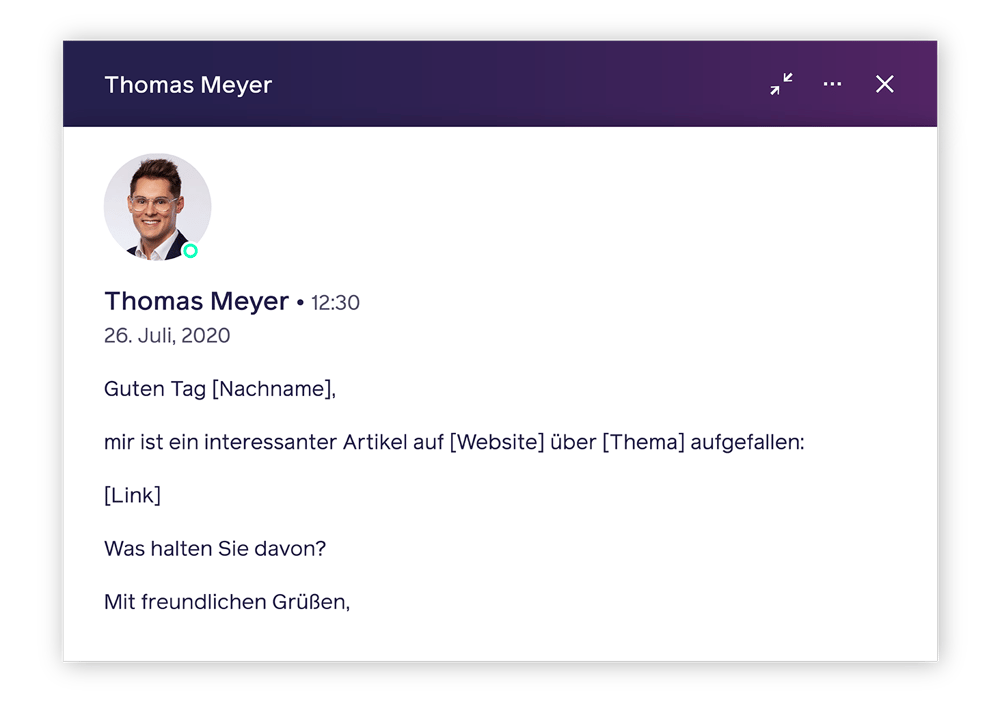 By now you should have developed adequate rapport with the CEO. You will know what kind of speeches he likes and what kind of messages he responds positively to. Find another interesting article or news story relevant to their company and tag the CEO.
The time has come to pick up the phone! Call the prospect and give them your best elevator pitch, why your product matters and what pain points it can fix.
However, when calling a CEO, keep in mind that the best times to call are different from other professionals. Here is some advice from Charlie Beale:
Mornings are usually not a good time as the CEO is distracted, planning starts and doing his or her daily routine.
Lunchtime is more suitable. CEOs often work on their lunch break while other employees are away. It's also a great time to reach out to the CEO without having to speak to the gatekeeper. Chances are the assistants or secretaries won't be around for lunch so you can bypass them and speak directly to the decision maker.
Later in the day or after work (5:00 p.m. to 8:00 p.m.) are also good times to call a manager. The colleagues may have already left, so the office is less busy. The CEO may be more relaxed and open to a call.

At this customer touchpoint, you need to provide the CEO with a proof of value document (POV). Usually this is a longer document (2 pages maximum) that explains at a practical level how your product or service can support the CEO's company. In this POV document, you must provide the prospect with evidence of the added value of your offer.
The most important points that a POV document should contain are:
Start with a brief introduction about the relevant end goals. What is the optimal outcome that the CEO can expect from using your product?

Then move on to a list of benefits offered by your product or service. What are the 3 main benefits you can deliver to the prospect?
Then provide a POV schedule. Make a detailed list of the steps you need to take to get the Prospect on board and get the product started. Indicate the resources that each company must raise for each step.
Define some customer success parameters. What must the prospect do to maximize his chances of success?
Make sure you factor in all legal contingencies (if relevant and / or necessary).

End the document with a list of what to do next immediately. This could be anything from promising to provide more information by a certain date, to setting an appointment for a follow-up call or a face-to-face meeting.

Use this call to get back to the prospect if they haven't answered yet. Try to schedule a meeting with him as outlined in the steps to be followed in your POV document.

Follow up your POV document with actions by sending the CEO something that will add value to them, such as: E.g. a report showing the difference your product or service can make, or a comparison between your company and your biggest competitors.
This is the final customer touchpoint before officially giving up your efforts.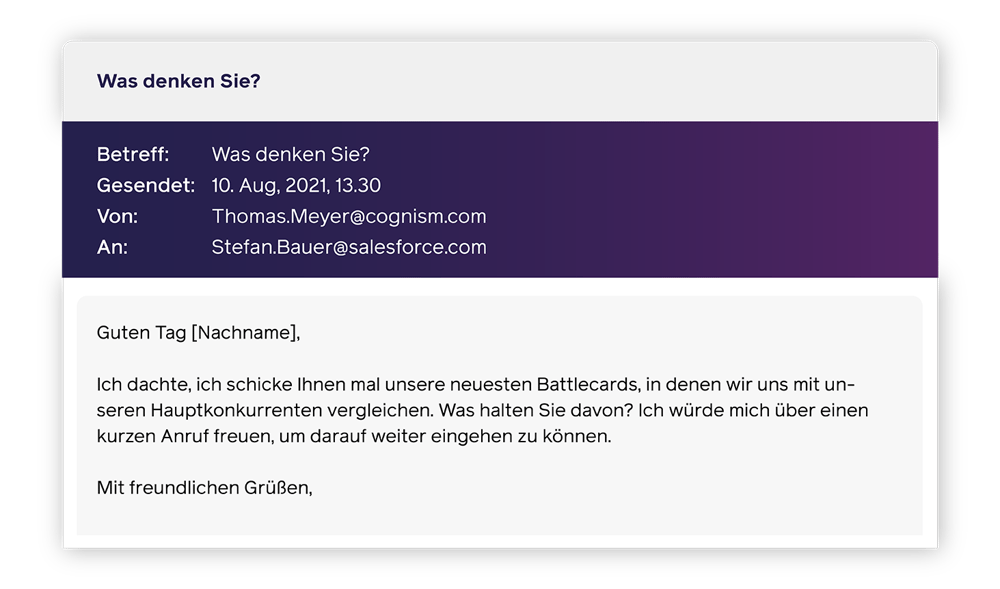 If you don't get an answer to that, admit it to yourself: you did your best, but it was unsuccessful.
Call the CEO and tell him you're going to close his account ... for now. But do not delete it completely. Announce that you will be back in 6 months.

This is the very last customer touchpoint in the sequence. Follow your call with an email repeating the same message.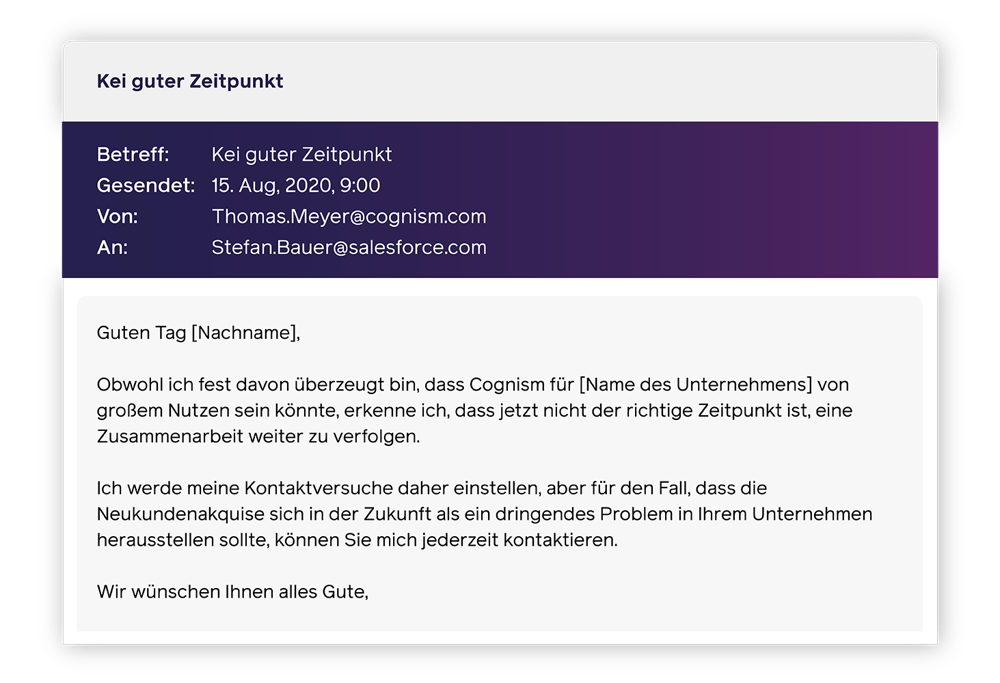 We asked James Isilay, founder and CEO of Cognism, which prospecting methods he prefers when he is the target of acquisition efforts. He gave us the following tips:
Focus on the pain points. They are very likely the only points a CEO will respond to.
Keep your messages short and sweet. Don't waste a single word. A CEO's calendar is full enough. Furthermore, he will not want to read additional email essays! If your email is too long, it will simply be deleted.
Be persistent. It will take time for a CEO to respond. But if you can convince them that your product can fix their problems, you will get a positive answer.
B2B customer acquisition made easy
Cognism offers a range of tools to find and approach new sales leads, including CEOs. We can provide up-to-date and accurate contact information for your target accounts, including verified business phone numbers and email addresses. In addition, you can use our outbound automation feature to efficiently send emails to your prospects using your personal or business email account.