"Dark Heart": Trump and the Soldier Parents
It started with a speech at the Democratic Party Congress. There, the father of a fallen US soldier had accused the Republican presidential candidate Donald Trump of demonizing the Muslims in the country - even though they too stood up for the United States with their lives.
"Look at the graves of the brave patriots who died defending the United States," said Khizr Khan, addressing Trump. "You will see all creeds, genders and races." The billionaire himself, however, "sacrificed nothing and nobody".
Trump defended himself. The 70-year-old told ABC News that he had "made a lot of sacrifices". He works "very, very hard" and has created tens of thousands of jobs. And he has had immense success. "I think I've done a lot."
Then he counterattacked. Behind the speech of the Muslim man, whose son was killed in Iraq in 2004, was his Democratic rival Hillary Clinton - her speechwriters may have written Khan's moving speech at the Democratic Party Convention.
"She had nothing to say"
On ABC News, Trump also commented on Khan's wife, Ghazala, who had stood next to her husband during the speech. "She had nothing to say," said the controversial Republican. "Maybe she wasn't allowed to say anything."
That he had made a faux pas probably went to Trump himself: Later the Republicans published a statement by their top candidate in which he praised Khan's fallen son as a "hero" and called on everyone who "made the greatest sacrifice" to be honored to keep our country safe ".
"All of America felt my pain"
Then the mother of the soldier who was killed joined the debate. Ghazala Khan said on ABC News that she did not speak up because of the grief for her son. "When I stood there, all of America felt my pain - without a single word from me." Trump did not even know what it meant to make a "sacrifice", explained Ghazala. In the meantime she published a name article in the "Washington Post".
Her husband Khizr added that he had asked his wife to speak, but she was afraid of becoming too emotional. He himself now showed his anger: The Republican had no right to "treat the relatives of killed soldiers with contempt". "Shame on him. Shame on his family," he said. "He lacks any decency, he has a dark heart."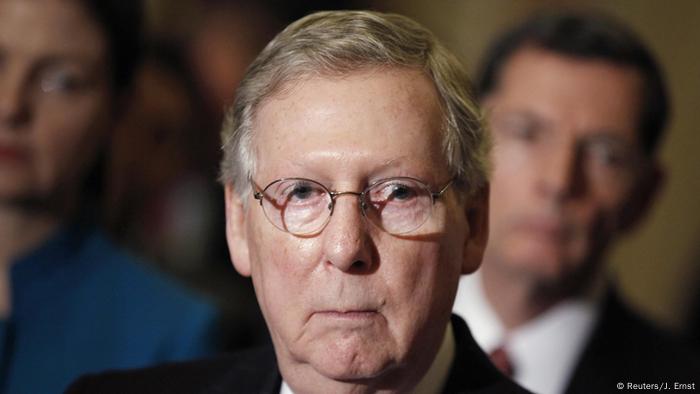 Mitch McConnell, Senate Republican Majority Leader (archive image)
"Plump, gross, nauseating"
The presidential candidate also met with outrage from within his own party. Senate majority leader Mitch McConnell protested behind the soldier's Muslim parents and condemned Trump's demand for a general entry ban for Muslims.
Ana Navarro, political commentator for the US television channel CNN, was surprised by Trump's volts. "Whenever I think he can't make a fool of himself any more, he proves me wrong." In the short message service Twitter, she added that Trump's comments about Khan were "big". In American, however, this stands for "clumsy", "blatant", "raw", "gross" or "nauseating".
jj / rb (dpa, afp)